The H2020 project "Strategic, Tactical, Operational Protection of water Infrastructure against cyber-physical Threats" (STOP-IT) focuses on the protection of critical water infrastructures (CIs) against physical and cyber threats.
STOP-IT brings together a team of major water utilities, industrial technology developers, high tech SMEs and top European Research and Development (R&D) providers.
STOP-IT solutions include:
a) mature technologies improved via their combination and embedment (including public warning systems, smart locks)
b) novel technologies (including fault-tolerant control strategies for SCADA integrated sensors, high-volume real-time sensor data protection via blockchain schemes; irregular human detection using new computer vision methods and WiFi and efficient water contamination detection algorithms)
The solutions are demonstrated with a front-runner/follower approach, where four advanced front-runner utilities, Aigües de Barcelona (Spain), Berliner Wasserbetriebe (Germany), Mekorot (Israel) and Oslo VAV (Norway) are twinned with Hessenwasser (Germany), Bergen Kommune (Norway), Emasagra (Spain) and DeWatergroep (Belgium), to stimulate mutual learning, transfer and uptake.
Topic: H2020 - CIP-01-2016-2017
Type of action: Innovation action
Number of partners: 22
EU contribution: 8,255,757.25€
Partners
SINTEF, Norway

IWW, Germany

CETaqua, Spain

KWR Water B.V., The Netherlands

Fundacio EURECAT, Spain

Technion – Israel Institute of Technology, Israel

ATOS Spain SA, Spain

Mekorot Water Company Limited, Israel

Aigues De Barcelona, Spain

Hessenwaser GmbH & Co. KG, Germany

Oslo kommune Vann- og avløpsetaten, Norway

ICCS- Institute of communication and computer systems, Greece

Bergen Kommune, Norway

Berliner Wasserbetriebe, Germany

Water supply and sanitation Technology Platform, Belgium

PNO Innovation N.V., Belgium

Aplicatzia S.H. LTD

EMASAGRA, Spain

World Sensing S.L.N.E, Spain

RISA Sicherheitsanalysen GMBH, Germany

Mnemonic as; Norway

DeWatergroep, Belgium
Work packages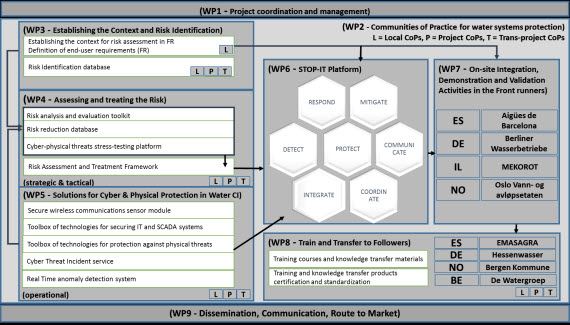 WP1 - STOP-IT coordination, management and knowledge management (SINTEF)
WP2 - Communities of Practice for water systems protection (IWW)
WP3 - Establishing the Context and Risk Identification (CETaqua)
WP4 - Assessing and treating the risk at strategic and tactical level (KWR)
WP5 - Solutions for Cyber and Physical Protection in Water CI at operational level (EURECAT)
WP6 - STOP-IT Platform (RISA)
WP7 - On-site integration, demonstration and validation activities in the FR (ICCS)
WP8 - Train and Transfer (SINTEF)
WP9 - Dissemination, Communication and Route to Market (IWW)
WP10 – Ethics requirements (SINTEF)
Go to the project website