Offshore Power Electronics
New control systems
The objective has been to provide the required advanced control strategies for grid connected and islanding power electronics converters.
---
The task has been carried out as a combination of numeric simulations and laboratory demonstrations.
Summary of achievements
New control strategies
Defined a control strategy based on the concept of Virtual Synchronous Machine (VSM) for control of converters integrated in power systems with weak frequency regulation as:

Control of converters operating connected to grids benefiting from frequency support
Control of converters operating in islanded grids with presence of synchronous generators
Control of converters operating in islanded grids dominated by power electronics with low or even zero physical inertia.

Validation of the VSM concept and of its implementation by numerical simulations and on an experimental setup

Simulations performed in the Matlab Simulink environment
Experimental tests executed on a 20 kW converter unit while control running on a OPAL-RT platform.
Implementation of converter control algorithms on a FPGA-based processor board
FPGA-based processor board

Xilinx Virtex5 FX 30 T
Embedded PowerPC440 core
40 MHz , 8 channel, 12 bit AD converter
128 MB flash, 256 MB DRAM, 64k Eeprom
Interface for LEM current transducers

Designed for converter control in drives and grid connected configurations

Local user interface with display
CAN-communication for receiving operating modes and references

Operated as general purpose white-box converter controller in the lab
60 kVA laboratory converter modules
Developed in-house by support from OPE and other projects
Based on Semikron SEMIKUBE modules
400 V, 100 A RMS ratings
LCL filter 500 µH, 50 F, 200 µH
Cabinet contains contactor, pre-charging circuit and discharge resistor
Internal rectifier to be used for motor drive demonstration
Prepared for operation in back-to-back or DC grid configurations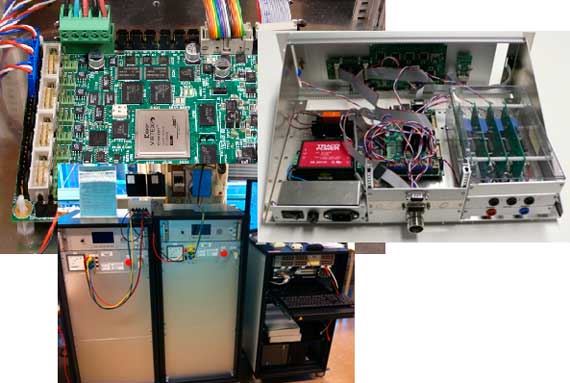 Converter control overview