Letter from the CEO: We are on our way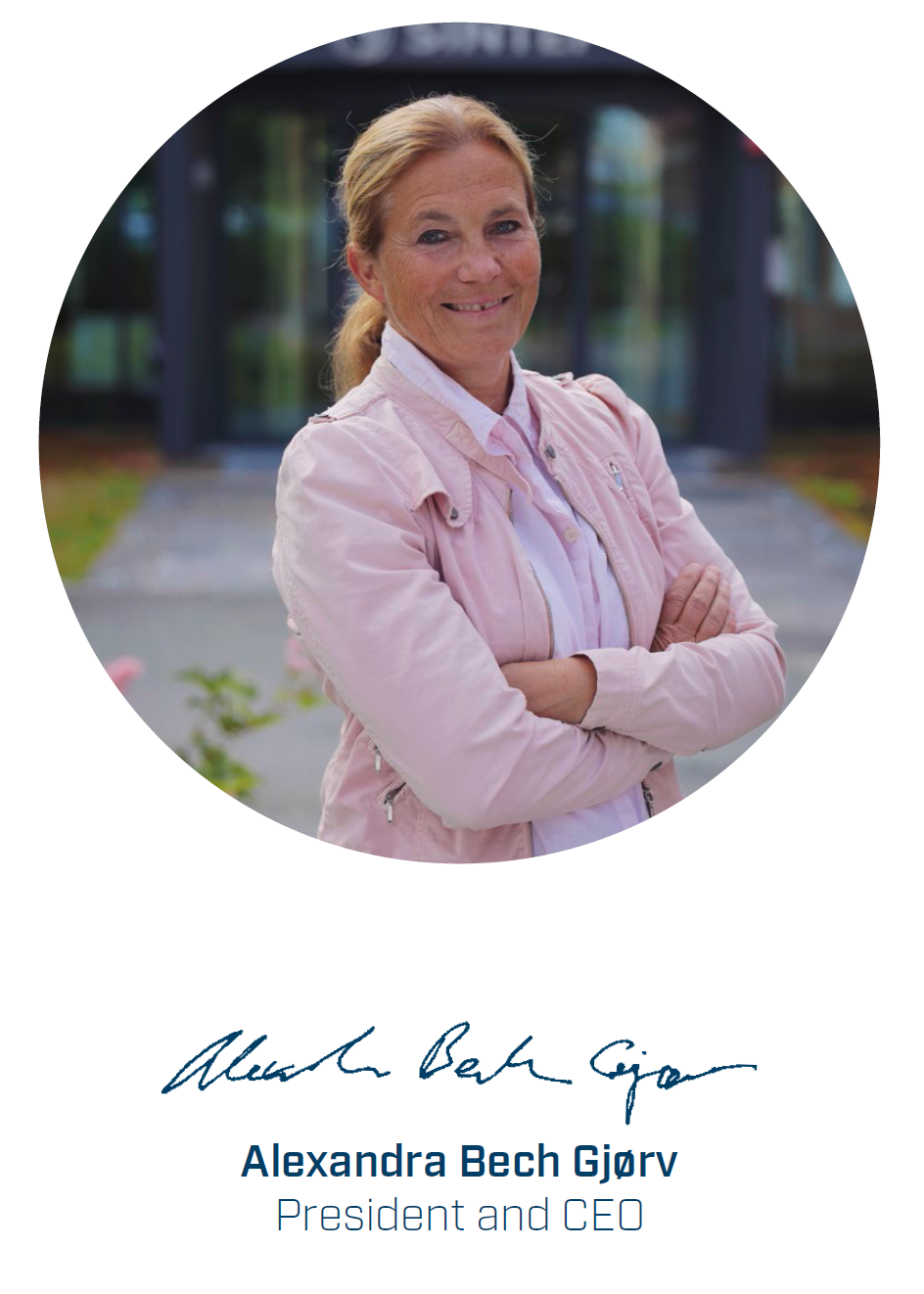 Since our inception as an applied research institute 70 years ago, we have sought to provide our clients and society with meaningful results from research and innovation. SINTEF's vision is 'Technology for a better society'. Our 2,000 employees hold our traditions and vision clear, and many come to work for us because they want to make a difference.
SINTEF's strategy, adopted in 2019, is guided by the UN Sustainable Development Goals (SDGs). This extends the obligations we have had as a member of UN Global Compact since 2009, which still apply. The 17 SDGs set out what we and the world have to achieve in order to create a better society. In this document we report on what we are doing to support the goals and strengthen our contribution to society, both through our research and innovation activities and in SINTEF's own organisation.
SINTEF takes sustainability seriously. Therefore, while highlighting results that benefit society, we also want to improve our reporting, specifically to be even more quantitative in how we document the impact our work has on society. At the same time, identifying good methods for measuring the impact of applied research is not straight forward. Among other things, it involves getting to grips with complex value chains involving many stakeholders and causal relationships. Research involves high-risk, long-term work with time lags between when research is conducted and impacts can be measured. But we want to do better!
Going forward, we will make even greater use of the SDGs in how we orient our portfolio and create new research projects and start-ups. We can see that our clearly set out ambition of contributing to sustainability has already helped us, as an organisation, to delve deeper into important issues.
We are working on an exciting project with SINTEF and other partners involving using plastic from the oceans for new products and combining this with blockchain technology in order to maintain control over value chains and avoid the plastic re-entering the oceans.
SINTEF's strategy and activities are guided by the UN Sustainable Development Goals
SINTEF's corporate strategy, adopted in 2019, is guided by the UN Sustainable Development Goals (SDGs). The goals refine SINTEF's vision. This extends beyond the obligations we have had as a member of UN Global Compact since 2009. The 17 SDGs set out what we and the world have to achieve in creating a better society.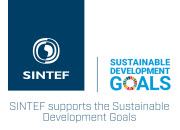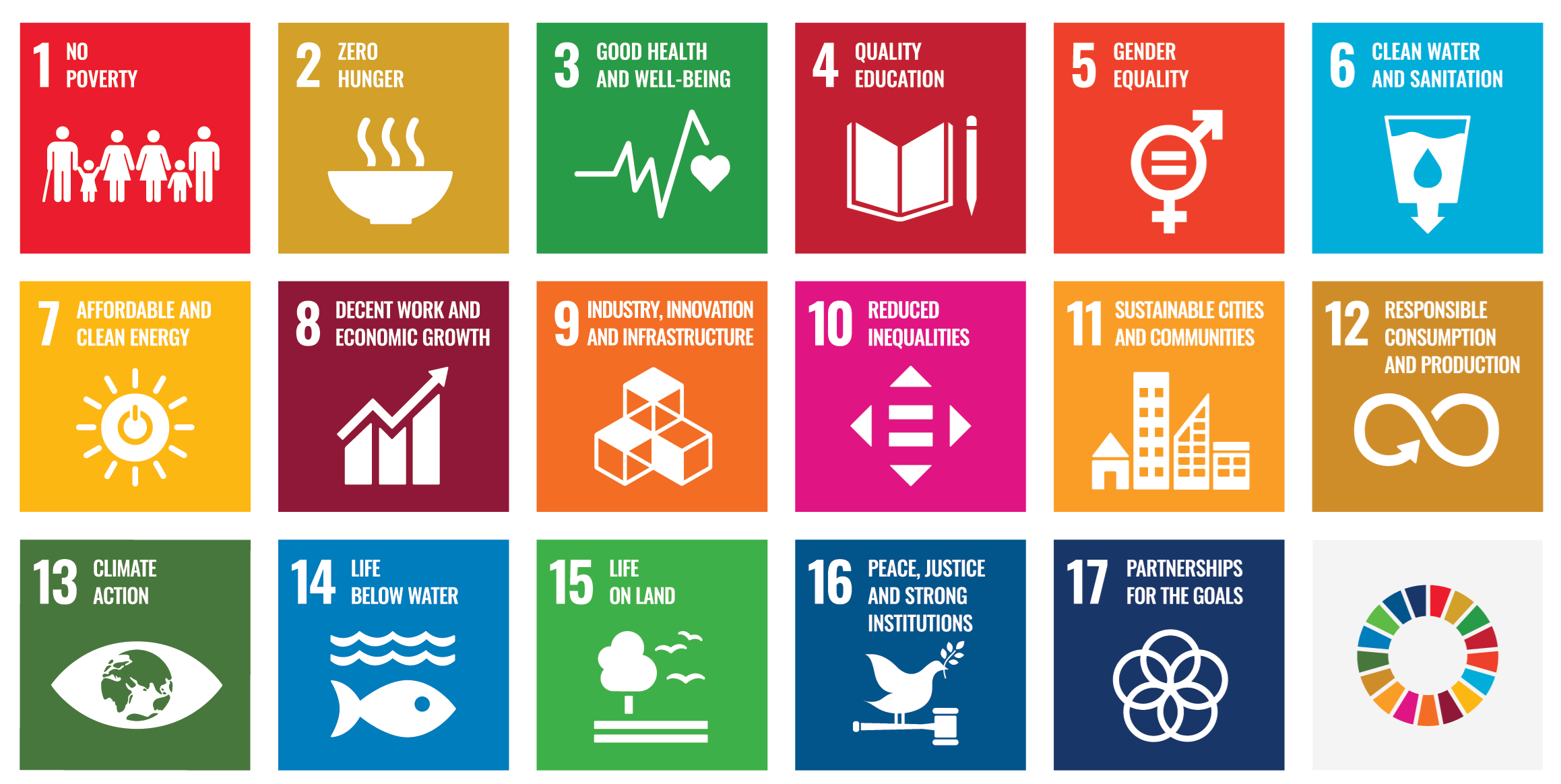 Today's SINTEF is a successful and internationally oriented research institute that occupies a key position in the Norwegian research landscape and is NTNU's most important research partner. Given its strong technology profile and broad expertise in technologies important for the green transition, SINTEF is an important actor within research and innovation for sustainable development in both a Norwegian and an international context.
Our research portfolio and the Sustainable Development Goals
Many companies set clear priorities as regards which SDGs they particularly want to deliver on. This is often based on strategic considerations or on an assessment of where they can have the greatest societal impact.[1] As a research institute, SINTEF is involved in many value chains, industries and areas of expertise – with an emphasis on sectors where technological solutions play an important role. This breadth means that we want to deliver on the entire sustainability agenda and have in our corporate strategy committed ourselves to all 17 SDGs. At the same time, SINTEF clearly delivers more on some goals than others.
An analytical approach confirms this. The figure shows our research projects' relevance to the various SDGs, measured in terms of turnover in 2019.[9]
The methodology is still being refined but the current snapshot provides a good illustration of SINTEF's profile. It shows that in 2019 we carried out significant activities in relation to seven SDGs in particular, listed by the turnover associated with each SDG in our project portfolio:
We also have activities related to the other SDGs, but these are marginal, especially in relation to goal 5) Gender Equality.
Everything is now in place for SINTEF to take a leading role in Norwegian society as we continue the green transition.
Our start-up companies and the Sustainable Development Goals
SINTEF's current portfolio of 16 research-based start-up companies have also been evaluated in relation to the 17 SDGs. Most of them have been tagged under goal 8) Decent Work and Economic Growth or goal 9) Industry, Innovation and Infrastructure. Many of these companies are involved in the application of key technologies within IT, biotechnology and nanotechnology that will enable a variety of products, services and value chains for sustainable innovation. In recent years, we have also seen a significant increase in start-ups targeting goal 3) Good Health and Well-being. Many companies also target goal 12) Responsible Consumption and Production and 14) Life Below Water.
Sustainability as part of management and organisation
As a foundation, SINTEF has no owners, but it does have a responsibility to fulfil its purpose and social mission. No dividends can be paid out and our entire surplus is used to boost the organisation's financial strength and innovation capacity through improving expertise and investing in infrastructure and strategic priorities.
Integrating sustainability into the core of how we work is not only important for our business areas. It is also about how we manage and organise ourselves.
SINTEF must always strive to ensure that the requirements and expectations of our clients and other partners are properly met. SINTEF's management system is certified in accordance with the internationally recognised standards, ISO 9001:2015, ISO 14001:2015 and ISO 45001:2018. This means that we have a management system designed to ensure that SINTEF delivers products and services of the agreed quality, takes account of the external environment, and works systematically on its working environment and safety.
SINTEF is an attractive place to work. Diversity and a good gender balance are essential for delivering on major societal challenges.
Ethics, anti-corruption and good governance are prerequisites for our activities. Ethics constitute an integral part of SINTEF's strategy and apply to all employees.
Sustainability report as pdf