Joachim Seland Graff
Research Engineer
---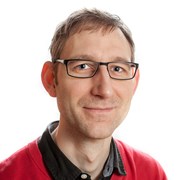 Unit:

Department:

Office:

Oslo
Employed in SINTEF since 2007 and has more than 15 years experience in sample preparation and material characterisation, running and maintaining advanced scientific equipment and material research on a variety of materials.
Education
2006: Cand. Scient (M.Sc) Institute of Physics, University of Oslo.
Thesis on determining the structure of an AlSiMn alloy using mainly transmission electron microscopy (TEM).
Competence and research areas
Material characterisation.

Scanning electron microscopy (SEM) incl.
- Energy Dispersive Spectroscopy (EDS)
- electron backscatter diffraction (EBSD)

Sample preparation for electron microscopy
Topography measurements using White Light Interferometry (WLI)
Optical microscopy
Automation of equipment using simple programming in Python

Using the above techniques, I characterise materials in several categories:

Ceramics
- CO2 capture and storage (CCS)
- Hydrogen
- Fuelcells

Metals
- Extruded aluminium profiles
- Recycled aluminium from household waste
- Additive manufactured (AM) materials based on nickel, iron or aluminium
- High entropy alloys (HEA)

Silicon
- silicon wafers for solar cells
- silisides for thermo electric applications

Polymers
- isolation for high voltage direct current (HVDC) cables
- food packaging materials
- pipes for transporting fish feed in fish farms
Contact info
Visiting address:
Forskningsveien 1
Oslo