Compareit addresses the topic "Societal perspectives, governance and markets" and will shed light on stakeholder perceptions of challenges, opportunities and synergies related to the increased use of new concepts
for aquaculture production systems in Norway, focusing on land-based, floating closed, semi-closed and exposed systems. Applying a comparative perspective across the whole value chain, Compareit assesses, in collaboration with industry partners representing all these systems, how these can be regulated and located to ensure a sustainable development of the industry while safeguarding other potential competing interests - in addition to gaining wide acceptance in society.
As a Collaborative project to meet societal and industry-related challenges, the project employs an industry perspective and will be conducted in close collaboration with key actors and stakeholders from the aquaculture industry, as partners and in an established stakeholder steering committee. An international advisory board will provide additional expertise to the research activities.
Aquaculture plays an important part in reducing dependency on meat consumption and carbon footprints of human diets, and according to the World Bank, 62% of all seafood consumed will be farm raised by 2030*. Currently, about 70% of the world's salmon production is farmed, and Norway is the leading producer of Atlantic salmon on a global scale. However, the growth in production volume is currently at a halt due to the environmental challenges of the industry, including salmon lice, escapees, nutrients discharge and diseases dispersed from the open net-pens sited in the coastal marine ecosystem. Consequently, the salmon industry must be innovative and transparent to improve its sustainability and public image, and both governmental and private initiatives can be used are drivers for innovation and sustainability in the industry.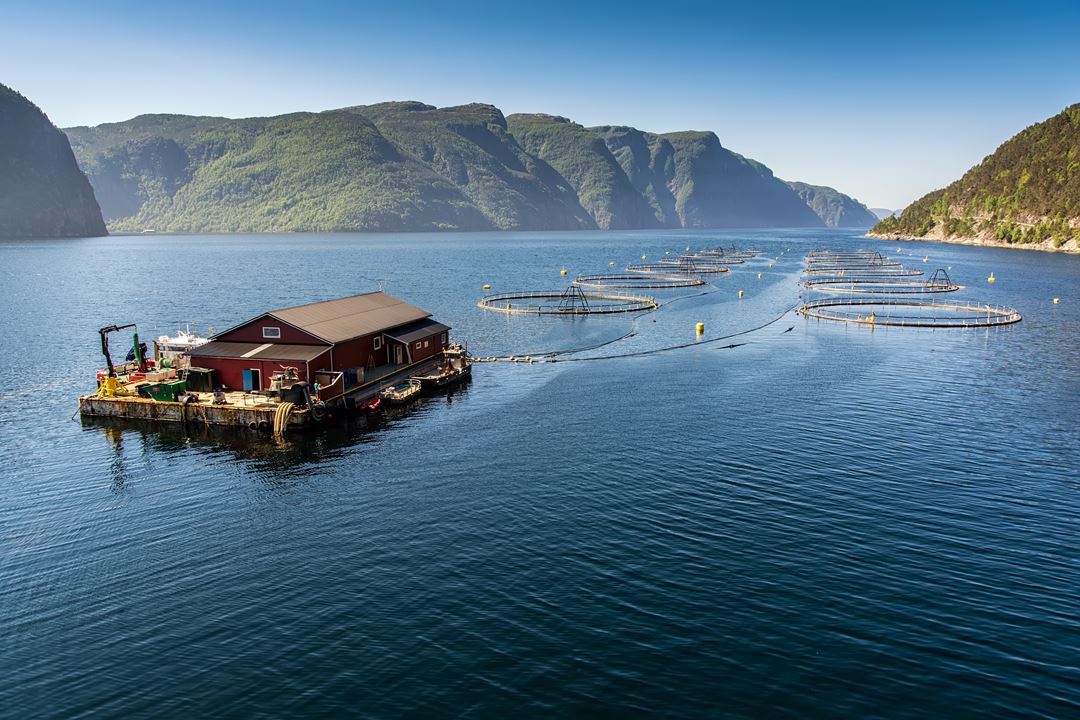 Photo: Adobe stock / Tania Zbrodko
Sustainable growth also depends on a knowledge based upscaling of the industry that takes into considering not only sustainability of growth but
considers this in synergy with competing interests, the entire value chain, and production systems that are not only located in more exposed areas, but also in closed systems located both in the sea and on land (land-based), in addition to the current production systems. As current regulations apply only to the conventional production systems, the industry calls for regulations and sites that are in sync with the technological and innovative developments in the industry.
The salmon industry involved in the development of the Compareit project, and other associated industry partners, argue that in order to achieve sustainable development environmentally as well as
economically and socially, the regulation of new production systems will require thorough knowledge and understanding of the challenges, opportunities and synergies perceived by the actors who are currently operating and developing them, and this is the objective of Compareit.
The following secondary objectives support and reinforce the primary objective:
Provide knowledge of regulatory and spatial needs related to the diversification of aquaculture production systems based on industry actor and stakeholder perceptions;
Generate a reliable and user-friendly methodology for comparing the potentials of different production systems from socio-political and economic perspectives;
Explore how different future scenarios can affect regulatory processes at different levels of analysis and what adaptation avenues are available to alleviate pressures;
Explore the value chain structures arising from the new production systems including the main flows of material, money and information; and behaviours and interdependencies of the main actors and stakeholders;
Create increased understanding of the consumers' willingness to pay for private vs. public certification schemes of different production systems; and
Ensure an integrated transdisciplinary project, where industry actors, stakeholders and researchers coproduce new knowledge that ensure more reliable and legitimized policy action.
*Source: World Bank. Fish to 2030: prospects for fisheries and aquaculture. Agriculture and Environmental Services Discussion Paper 03 (2013)