Kristin Thaulow
Research Scientist
---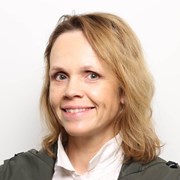 Unit:

Department:

Office:

Trondheim
Kristin Thaulow is a clinical psychologist and research scientist with a background as a journalist in the media industry. She combines cutting-edge expertise in mental health with the development of new technology, and is actively engaged in bringing forth new knowledge that will benefit end users.
Education
Educated Cand. Psychol. from the University of Copenhagen, BA in psychology from NTNU and journalism with specialization in radio from the University of Volda.
Competence and research areas
Clinical psychologist and research scientist within the field of mental health, innovation and use of technology. Specialized in the use of Extended Realities (XR technologies) and the application for employees and users of health services. She has been involved in concept development in Virtual Reality for many years and worked with actors in various industries to achieve learning and development through the medium.
Linkedin
https://no.linkedin.com/in/kristinthaulow
ResearchGate
https://www.researchgate.net/profile/Kristin-Thaulow
ORCID
Contact info
Visiting address:
Professor Brochs gate 2
Trondheim