Ensuring sustainable food systems in Norway and in the world is the key to reducing greenhouse gas emissions, improving animal welfare, reducing impacts on ecosystems, ensuring equitable distribution and increasing food security. A food system comprises everything that affects the food we eat, from production, processing, distribution and marketing to consumption. Sustainable feed is an important part of this food system, and Norway is in a good position to contribute to the international transition towards more sustainable feed.
On a global scale, land-based food production accounts for 98% of the food we eat today, with only 2% coming from the oceans. This is despite the fact that the world's total biomass is roughly equally distributed between land and sea. Land-based production will face challenges in the future due to scarcity of land and fresh water. The share of ocean-based food production is therefore expected to increase in the coming years. Norway has great ambitions for expanding its aquaculture industry, and if these are to be realised, the need for sustainable raw materials for feed will increase.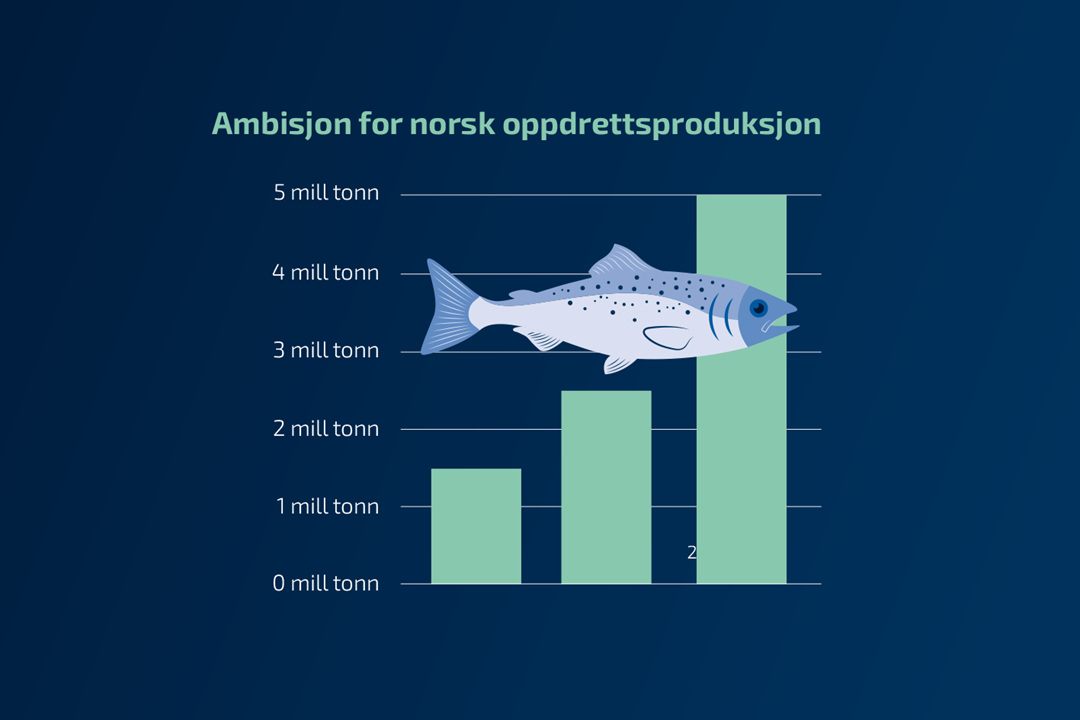 Norwegian farmed fish is a source of protein and omega-3. Compared to other sources of animal protein, salmon converts feed into food (usable protein) more efficiently, with an economical feed factor – the amount of feed used divided by the quantity of salmon produced – of 1.2. In 2020, almost 1.5 million tonnes of salmon were produced in Norway, with 2 million tonnes of feed resources consumed. Feed constitutes up to 75% of the climate footprint from salmon, and so it is an industry and government priority to develop new, sustainable raw materials for the feed.
At SINTEF, we develop many different feed raw materials which may become relevant for the farming industry in the future.

At SINTEF, we have our own researchers working at the Centre for Plankton Technology, where you can rent space to work on research and development for marine organisms. We have created a Roadmap to solve the "fish feed predicament", where we highlight what we believe are the most important measures that we need to take. We are working to develop many different raw materials that may be relevant for the aquaculture industry in the future.
In addition, we are very active in the field of circular bioproduction and production biology, where we conduct research on the cultivation of low-trophic organisms such as gammarids and bristle worms. These can be grown on various forms of residual biomass and produce high-quality protein and omega-3, which are relevant as raw materials for feed. Phototrophic microalgae is another of our focus areas - for example, with our participation in a green research group in collaboration with Finnfjord Smelteverk. Here, we have an ambition to industrialize the cultivation of microalgae using the CO2 and NOx from the smelting plant, and then use the raw materials for salmon feed, among other things.
SINTEF has a major focus on macroalgae and hosts a research infrastructure for seaweed cultivation and processing. We are in the process of realising large-scale seaweed cultivation, and are leading a green platform initiative where we are looking at the use of kelp as animal feed, among other things. The use of processed macroalgae in feed is a topic in several ongoing projects at SINTEF.
Harvesting technologies, resource management, sensory science and ocean modelling are other important disciplines where we provide insights about sustainable catch methods of the future, focusing on both current and new fish resources. This is the focus of SFI Harvest, a SINTEF-led centre for research-driven innovation, which is developing new technology for pinpointing fish locations, harvesting and processing of currently underutilised marine species at lower-trophic levels.
If marine resources are to be suitable as raw materials for feed production, a significant proportion of their water content must be removed. SINTEF has a dedicated team with expertise in sustainable energy systems of the future, as well as dewatering and drying technologies for food, ingredients and raw materials for feed.
One of our key research areas is single-cell production or fermentation of microorganisms for the production of feed ingredients, under which we have extensive project activity and a cutting-edge infrastructure in place. Our facilities include an industry-leading infrastructure for fermentation, which is a focus area for a number of projects for industry, as well as in the SINTEF-led project "SFI Industrial Biotechnology".
In order to be suited for inclusion in feed, all raw materials and bioresources must be stabilised and processed. At SINTEF Ocean, we work with specialists within oxidation and antioxidants to ensure product quality and stabilisation. We are also working with processing technologies such as enzymatic hydrolysis, purification, fractionation and concentration. In addition, we have carried out several industrial projects focusing on the selection technology for processing marine resources. We have, among other things, a mobile laboratory – Mobile Sealab –to optimise the processing of virtually any kind of raw material, including waste raw materials.
To succeed in developing new, sustainable raw materials for feed on an industrial scale, production must be cost-effective, consistent and reliable, which means that the production processes must be efficient and not overly labour-intensive. New technology and production automation are crucial for achieving stable and reliable production. We have our own team with expertise in automation and control technology working in this field, and we also have our own automation laboratory, MAROlab, where the main focus is on the automation of processes with soft materials, such as food and biological materials.
Assessing whether the scaling up of various potential raw materials is feasible, is an essential part of the innovation process. SINTEF has experts who can perform technical-industrial analyses that provide the basis for important decision making in regards to technology and solutions.
Sustainability is key in the development of new raw materials for feed, and one of our research teams specialises in assessing all aspects of sustainability related to food systems. Among other things, SINTEF publishes an annual report on the carbon footprint of Norwegian salmon, investigates social impacts such as employment and resilience aspects of food systems, and contributes to the SusFeed project.