At Machine-vision, machine-learning, and robotics laboratory (MAROlab) work entails find solutions to how interact with biological materials such as food, e.g. whole salmon, or fillets, cucumbers and lettuce, apples and berries, or intestines. These are produce with large varsity in consistency and size, and all these produce needing a gentle hand – even the apple. Take apples as an example: If you squeeze it just a bit in on point, the rotting process is started, and that apple will not last all the way to the consumer – i.e. resulting in lost. Keeping the quality of the food is key to ensure less loss, and to provide a more wanted product.
We hold a set of different robots at MAROlab, an industrial robot with IP67 – operational in even the harshest of production environment; and a set of lightweight robots – used for development of methods, algorithms, and human-robot-interactions. Currently, we are looking at machine-learning for task understanding and comprehension of actions taken.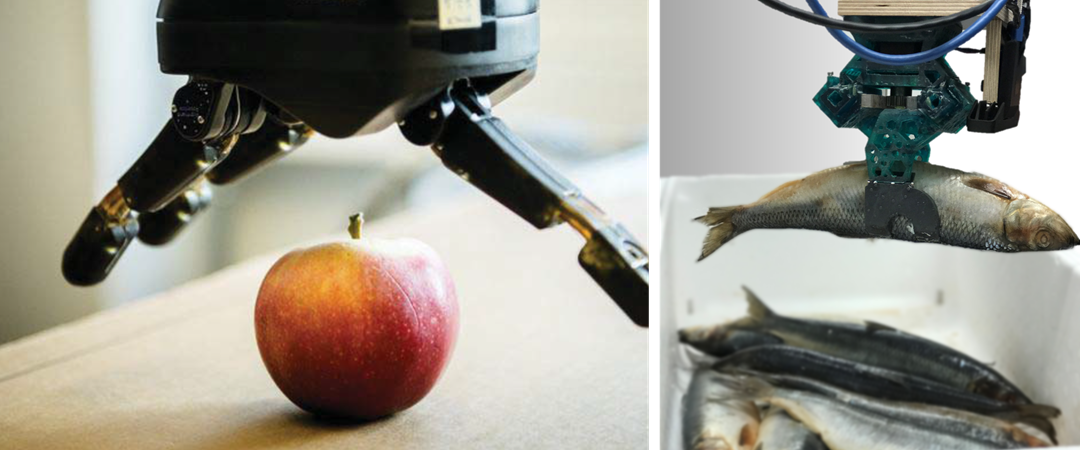 MAROlab also holds competency on general robotic automation, machine design, and experience in flexible automation processing solutions within the food industry, on land and to seas. Through our joint research efforts with the industry MAROlab has built up a comprehensive portfolio of projects, where we have researched, promoted, and implemented pilot installations increasing produce quality and reducing biological resource loss.
Some of our projects utilizing MAROlab:
GentleMAN – Gentle interaction with delicate and fragile foods (link)
Bifrost – Transferring humans sense of interaction to robotic application (link)

SmartFish

– Automatic detection of species with use of a smart phone (link)

iProcess

– Gentle handling of deformable and fragile food produce (link)

Neodorid

- Virtual Realty teaching of robots (VR teaching) (link)

SalmID

– Machine Vision used for unique biometric identification of Atlantic Salmon

Autonomous, robotic cleaning solution for the fishery and aquaculture

Robotrim

- Automatic, robotic trimming of Atlantic Salmon fillets

Gribbot

– Human-like robotic harvesting of chicken fillets

Automatic handling, sorting, of

Seine

Vessels capture

Automatic weight estimation of fish under loading from Seine nets
Some of the equipment readily available at our Machine-vision, machine-learning, and robotics laboratory (MAROlab)
State-of-the-art 2D- and 3D-cameras, with a variety of lenses

Franka Emika robot (7DOF)

Denso Robot IP67 (6DOF)

3D-printeres (Formlabs)

Conveyor belts

A set of Virtual Realty machines (VR-sets)

Electronic and machine building areas
Our AIM
We aim to enable better solutions to tomorrows automation challenges; we work to enhance quality and reduce food loss across the all sectors handling produce. Today there are tasks which humans still conduct out of necessity due to lack of technology with same finesse and yield. Those are the tasks we focus on – however, some tasks are ripe for the taking, and through close collaboration with the industry we can hand those of to the right grocer and get results needed for tomorrow, today.
To reach the solution of tomorrows factories, processing-plants, or fishing vessels we need a more dynamic, flexible, and re-arrangeable automation with ease of task teaching/adoption. Making system that can be more than one thing, e.g. more than a perfect filleter – but a packing robot and cleaning robot as well. Generally, more human-like to enable automation when automation previously has been unattainable due to performance.
Flexibility
To attain flexible automation solutions a demand on the machines ability to adept is placed. Their ability to handle the individual characteristics with products, and operations. From the dawn of automation machine have been tailored for specific task – getting an optimal tool for one operation. However, today we need to see beyond this – today's technology holds high precision, speed, and repeatability – and could handle what we priorly had to design unique machines for now with generic robots. Of course, there is a way to go before robots will take over – but this is due to lack implementation, control algorithms and not the robots themselves. Moveable robots, capable of variety of delicate and brut task would free up resources and help moving human interaction away from the produce. Potentially producing a higher market adaptability.
In many food producing factories production rate and volumes vary during the day, depending on quality and quantity of input. This often demands human operator's conduction food interactive tasks, as humans have an inherit ability to quickly adapt, take instructions, and conduct new operations with high dexterity and resulting high quality and yield.
Machine vision and -learning are up and coming and are now proving great results in combination with robotics. The combination of these technics and the hardware develop today demands that we look at automation as a whole and no longer as one-and-one separate task. Machine vision is essential in understanding the product – understanding which type of action is demanded. E.g. trimming of salmon fillets. In our work we have show how machine vision can see better and more consistent than a human on a production line. We have show that a machine can analyse and define what and where to trim; and with the precision that robots have today we have shown that we can take the same tool as humans and preform adequate interactions – on par with humans. The same robot is also proven to sort whole salmon and pick of herring. Empowering the message of flexibility as a possibility.
Automation design
At SINTEF is has been imperative to have a good connection with both the grocers of products, but also the producer and user of automation products. We have over years of experience in the field built up and understanding of needs on both sides. Flexible solutions are the future and most beneficial, however, we understand the needs of yesterday as well, and continuously work on projects with the equipment industry and their users developing and evolving current tailor-made equipment. Adding machine vision and -learning to improve of current cutting processes, weight estimations, quality controls and so on.