The Wise Horizons project will create a state-of-the-art theoretical framework which synthesises the current post-growth initiatives through a novel and open access WISE accounting framework.
The framework will define core terms and link to Beyond-GDP metrics, satellite accounts, policy strategies and the current generation of economic and integrated models. It will link to European policy strategies such as the Net-zero targets, the Circular Economy transition and Sustainable Competitiveness. With partners in Africa, the US and China it will also globally assess the current and new economic paradigms from the perspective of Sustainable Developments Goals.

Main
Any transition will result in trade-offs and synergies between different elements of a new economy such as wellbeing, inclusion and sustainability. These will be empirically analysed and used to inform policy and society about the choices that will shape the future up to 2050. The historical empirical analyses will use the WISE database and thematic/integrated models that address the core questions and policies of the post-growth society will be created by leading experts/institutes in the field of Beyond-GDP, inequality, sustainability and post-growth economics.
To maximise the impact of the project, the WISE Stakeholder Platform (you can sign up here), which is a "network of networks" will be created and the groups involved in the WISE Platform will be engaged in communication, dissemination and exploitation. The empirical research involved in this project will be done in a novel co-creative approach involving stakeholders in 5 co-creation labs/workshops. Special attention is given to individuals that are negatively affected by the transformation. An ambitious communication strategy will facilitate a new public debate away from the standard economic paradigm and towards a new paradigm fit for the future.
SINTEF Industry's Economic and Operations Research group is leading Work Package 7, focused on "Co-Created Integrated Model & Synthesis" in the WISE Horizons project. As economic and sustainability modelling experts, the SINTEF team will be integrating the WISE accounts with the outcome of detailed WISE policy modelling exercises. The aim of this work is to assess the most important tradeoffs and synergies involved in making changes to the current economic system, with a view to achieving inclusive and sustainable wellbeing.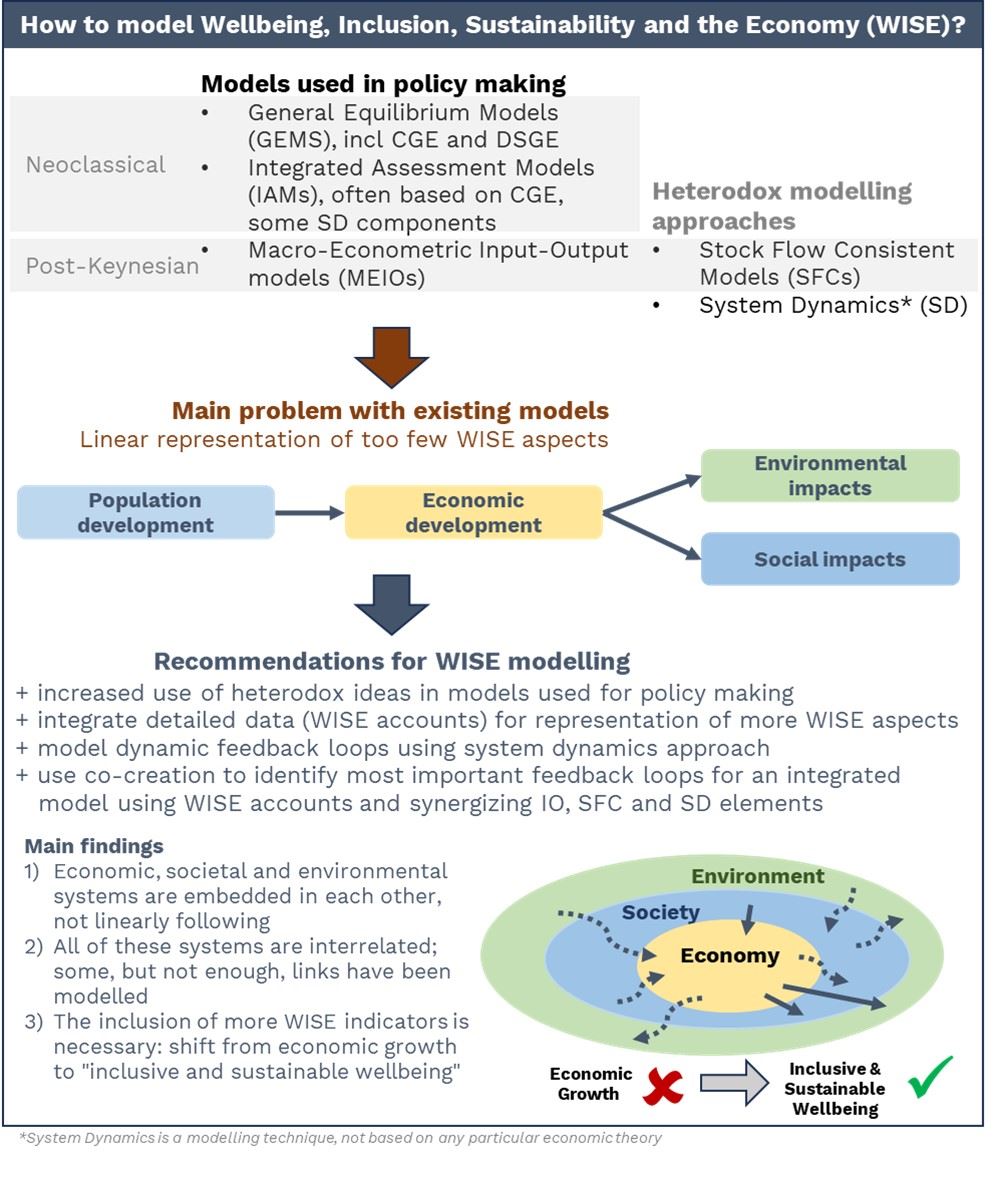 Partners
Project duration: 2023 - 2026
Total budget: € 2 397 725,00
Funding source: Funded by the European Union
For more information about the project WISE Horizons, see the website
This project has received funding from the European Union under grant agreement No 101095219.