Kirsten Svenja Wiebe
Senior Research Scientist
---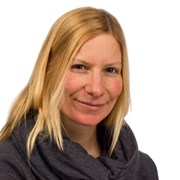 Unit:

Department:

Office:

Trondheim
Kirsten has joined SINTEF in 2019. Previously she has been working at NTNU's Industrial Ecology Programme, at the OECD in the Trade in Value Added initiative, and at the Institute of Economic Structures Research in Germany. She is a member of the Council of the International Input-Output Association (Vice-president in 2021-2022), and a member of the Editorial Board of the journal "Economic Systems Research" since 2019.
Education
MSc (2006) Econometrics and Operations Research, Maastricht University
PhD (2012) Economics and Policy Studies of Technological Change, United Nations University MERIT: "Quantitative assessment of sustainable development and growth in Sub-Saharan Africa"
PostDoc (2012/13) Centre for Integrated Sustainability Analysis, University of Sydney
Competence and research areas
The analysis of sustainability aspects of the global transition to a green economy is at the core of Kirsten's research. She is an expert in global and national macro-econometric input-output modelling and sustainability indicators. Her research continues to provide background information for UNFCCC's work on climate change response measures, the UNDP's NDC partnership, and the ILO's Green Jobs Programme.
ORCID
Contact info
Visiting address:
S P Andersens vei 3
Trondheim