The control strategies will be tested in the ZEB laboratory (Trondheim, Norway), which has both a PCM (phase change materials) heat storage unit and a solar PV system in addition to a customizable energy management system. The best control strategy will be used in the future.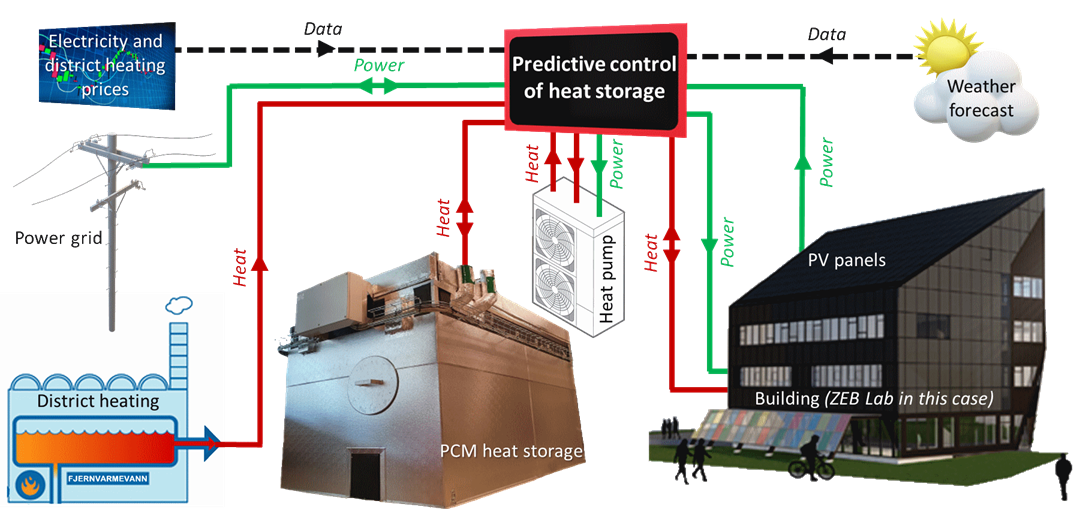 The PRESAV project is divided into 3 research activities:
A.1 Predictive control strategies. Various control strategies based on model predictive control (MPC) will be developed in Python to take into account the heat demand pattern for the building, local weather forecast for especially solar irradiance and outdoor temperature, and published price for electricity and district heating. MPC is an advanced method used to control a process while satisfying one or more objectives within given limits. Every day, the management strategy will make a plan for the next 24 hours in order to utilize as much of the locally-produced solar energy as possible and avoid peak loads on district heating networks and electricity networks during high load times.
Locally-produced solar energy can be converted to heat through the heat pump and stored in the PCM heat storage (200 kWh) if required. The PCM heat storage can also be charged using district heating through a separate heat exchanger. This heat is then used to heat the building when needed.
A.2 Implementation and testing in the ZEB laboratory. The different control strategies developed in A.1 will be implemented in the ZEB laboratory's energy management system and tested over several days / weeks in the cold season. This will also generate experience with the innovative energy management system in the building that includes a "research mode". This will make it possible to change parts of the energy management routines in the building. The ZEB laboratory will also run without the active use of PCM heat storage for a few days / weeks to get a reference case that will be useful for demonstrating the benefits of active heat storage. Depending on our experience with the existing sensors (e.g. energy meter), new sensors with higher accuracy and faster response may be installed if needed.
A.3 Data analysis and feedback on strategies. Energy data generated by the various control strategies tested will be collected and compared with the reference case (without active heat storage). Based on this, it will be possible to outline proposals for improving the strategies so that a new round of development and testing can be carried out.

The control strategies in PRESAV will satisfy objectives addressing challenges such as peak load heating and increased use of locally produced green electricity. This will help to promote the achievement of the ZEN definition by developing solutions that will lead to:
Reduced greenhouse gas emissions from the operation of buildings through increased use of locally produced energy;
Reduced power demand through flexible control of energy flows within a building and between a building and the surrounding energy system.
The project is led by SINTEF Energy Research , these are partners in the project:
---
The project is funded by FME ZEN.
Associated laboratory ZEB Lab.
---