SUMMER is an EU H2020 research project with 22 partners from all over Europe and is coordinated by AZTI in Spain. The project had its kick-off meeting in Bilboa, Spain, from 24th to 26th of September last year. The kick-off meeting was a partly joint meeting together with MEESO, another EU-H2020 project funded to study the mesopelagic challenges.
The SUMMER team enjoyed a couple of hectic days together. The on the agenda were general introduction to the project, video interviews, health breaks, coordination, games and discussion and planning of upcoming project activities.
The SUMMER project will explore recent findings that suggest that the mesopelagic zone of oceans contains 90 % of the planet's fish biomass. Even if a fraction of this is correct, the exploitation potential in fishmeal production, nutraceuticals and pharmaceuticals is enormous. However, as the role of mesopelagic fish is not understood in terms of the ecosystem, it is first necessary to establish tools to accurately estimate their biomass and the interspecies impact at that level. Using eDNA, acoustics and gut analysis among other tools, SUMMER will also investigate the environmental repercussions of such exploitation. The resulting outcome will provide a better idea of the mesopelagic commercial potential and its impact on ecosystem balances.
The SUMMER project will establish a protocol to accurately estimate mesopelagic fish biomass, quantify the ecosystem services provided by the mesopelagic community (food for aquaculture, for humans, for other wild fish, climate regulation and potential for bioactive compounds) and develop a decision support tool to quantitatively balance the trade-offs between the different services for any given exploitation scenario.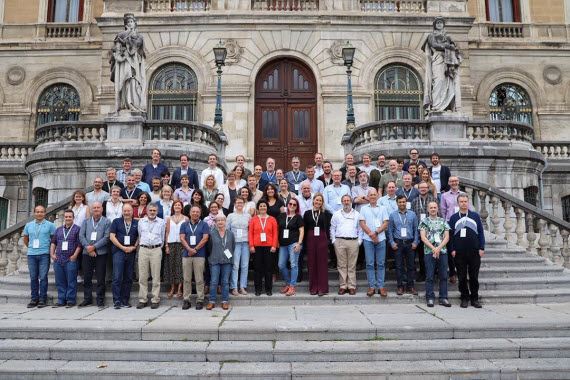 Photo: The SUMMER and MEESO teams during the joint kick-off meeting in Bilbao, spain. Photo: AZTI.