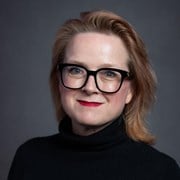 Rachel Tiller is a Chief Scientist at SINTEF Ocean, Department of Fisheries and New Biomarine resources. She is also the Director of the key strategic research area of biodiversity and area use at SINTEF.
Education
Tiller received her PhD in Political Science from NTNU in 2010 with the title: "New Resources in Old Waters: The Potential of National and International Conflicts Deriving from the Future Harvest of Calanus finmarchicus".
Competence and research areas
Tillers expertise focuses on interdisciplinary approaches to multi-level governance challenges and opportunties around ocean industries, sustainability, biodiversity, climate change, resource manangement and user group conflicts. Tiller has interdisciplinary experience around sustainability analysis, usergroup interactions, biodiversity challenges and governance analysis and work on these through methodological approaches centered on analysing governance mechanisms using event ethography, conceptual stakeholder driven perception workshops, serious games and user driven scenario development.