Eivind Halvard Okstad
Senior Research Scientist
---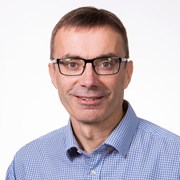 Unit:

Department:

Office:

Trondheim
Eivind Okstad is a Senior Research Scientist in SINTEF AS. He has an MSc degree in mechanical engineering, and holds a PhD in petroleum production, both from NTNU. Earlier experiences are as maintenance eng. at Norske Skog and consultant in DNV within the field of reliability- and risk management. His main area of interest is risk- and safety management approaches at all levels. Okstad has years of experience from projects within offshore petroleum and land-based industry, and transportation.
Education
M Sc., The Norwegian Institute of Technology (NTH), Department of Production and Quality Engineering, 1993.
PhD degree, Dept. of Petroleum Technology and Applied Geophysics, The Norwegian
University of Science and Technology (NTNU), 2007.

Competence and research areas
Risk- and vulnerability analysis
Safety management
Societal safety and stress testing
Barrier management
Reliability technology
Maintenance management and machinery safety
RAMS engineering
Independent Safety Assessor and Certification in Railway
Cybersecurity of critical infrastructure
Linkedin
https://www.linkedin.com/in/eivind-okstad-784553100/
ResearchGate
Contact info
Visiting address:
Strindvegen 4
Trondheim