Join us for our stakeholder workshop:
CHALLENGES AND BARRIERS RELATED TO CIRCULARITY AND SUSTAINABILITY
31 August 13.00 – 15.00 CEST
---
The SMARTCHAIN project seeks to bring about smart solutions for advancing supply systems in blue bioeconomy value chains. Automated sorting and quality characterisation, together with optimising
production planning will reduce waste from processing while the blockchain technology will increase the transparency in the supply chain. The project will also look into upscaling the production of high-value marine ingredients from co-streams from the pelagic industry. Sustainability indicators and circularity criteria will be applied to
assess the performance of the system solutions.
SMARTCHAIN has defined three case studies from aquaculture and
fisheries value chains, including Norway, Iceland, Denmark and Romania. Industry actors representing their sectors will be involved in the implementation and application of the development of technologies and models through the case studies, achieving a TRL ranging between 4 and 6. In addition, an advisory group will contribute with insights into the
existing bottlenecks and technology gaps in the bioeconomy sector.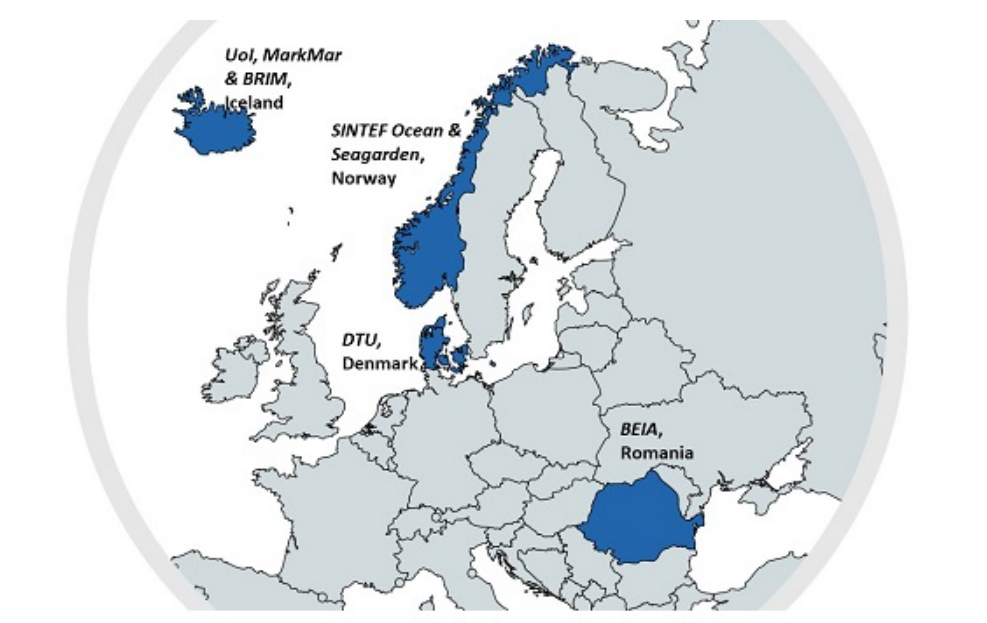 Overview of partners and countries in the SMARTCHAIN project.

The SMARTCHAIN simulation framework will enable the assessment of the end-to-end effects and potentials of the project and enlighten policy makers, businesses, investors, entrepreneurs, institutions, stakeholders, and citizens about potential trade-offs. Furthermore, SMARTCHAIN will generate European added-value and knowledge transfer through a validated comparison of developed concepts across partner countries and facilitate collaboration across the different sectors. A major focus of the
project is also on development of replicable technologies and tools that can be applied to other food supply chains.
Lastly, SMARTCHAIN will contribute to capacity building by creating awareness, opening opportunities for academic researchers and reaching out to a broad spectrum of stakeholders across multiple countries.
The primary objective of SMARTCHAIN is to develop approaches and tools for sustainable utilisation, production planning, logistics optimisation, and traceability to facilitate the transfer of bio-resources in fisheries and aquaculture value chains.

Secondary objectives:
a) provide an understanding of critical points and decision making for improving quality, traceability and sustainability

b) develop and demonstrate innovative concepts for automated sorting and data capture

c) develop tools for sustainability assessment and supply-chain decision making

d) optimize and up-scale technological solutions for the processing of co-streams into high-value and functional ingredients

e) provide decision support tools for the assessment of end-to-end supply chain impacts based on the sustainability assessment metrics

f) provide wider European added-value through validated comparison across countries on needed advances in technologies and circular business models compared to existing solutions
---