SINTEF has access to NTNU's medium voltage, directly powered switchgear laboratory, and primarily addresses issues related to load current interruption. We combine our experimental research with use of simulation tools within fluid dynamics, electrostatic field theory, black box arc modelling and circuit analysis.
Our services:
SINTEF performs short circuit and high current testing of power components like power cables, switchgears, switchgear, transformers, etc. We have a wide experience from projects addressing mechanical stresses, electric contact behaviour and thermal issues.
We also carry out switchgear failure analyses and assist with technical evaluations, often related to insurance issues or power system operation.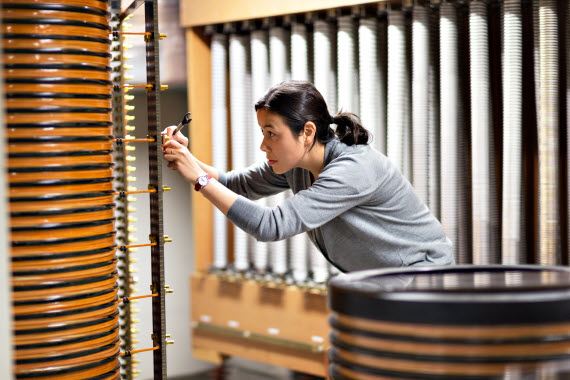 Adjustment of circuit components during current interruption experiment
Photo: NTNU/Geir Moen
Main tasks and specifications:
Experimental current interruption testing in a direct power medium voltage laboratory
Short circuit testing up to 150 kA and 5 sec
Parameter studies of medium voltage switchgear designs
Synchronised circuit control for repetitive interruption conditions
High speed imaging of arcs
Cold gas flow simulations
Black box arc modelling
Electrostatic field strength calculations
Ablation assisted interruption tests
Damage analyses
Status:
SINTEF, in collaboration with NTNU, are running three major research projects with Norwegian industrial partners. The team in Trondheim has published 5 IEEE journal articles and several conference papers on the topic over the last years, and intends to expand the research activities in the future.