To reduce the impact of climate change, the world needs to reduce the CO2 emissions and nearly reach net-zero emissions by 2040. Although strategies to reduce emissions, such as renewable energy, carbon capture and storage or utilization (CCS/CCUS), energy efficiency and avoiding deforestation are all critically important, it may not be enough to reach the 1.5 °C target of the Paris Agreement.
Reaching net zero and beyond requires strategies that actively remove CO2 from the atmosphere. Carbon dioxide removal (CDR) is a collective term for such strategies and technologies. In a previous webinar we addressed Direct Air Capture (DAC) as one CDR solution. This time, focus for the webinar is on solutions and technologies that extract CO2 from the ocean and because of the atmosphere-ocean equilibrium indirectly contribute to reducing the concentration of CO2 in the atmosphere.
In this webinar you will learn about how the primary production in the ocean works, and how natural marine processes may be utilized and/or enhanced as climate positive measures and which challenges the technologies are facing.
No pre-registration is needed, the webinar is open to anyone.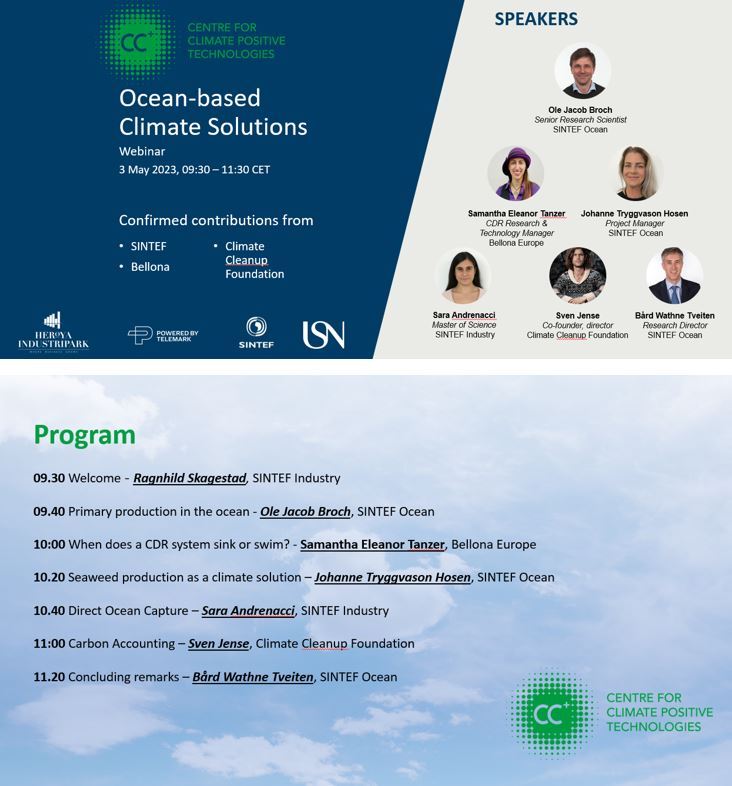 The webinar Ocean-based Climate Solutions will be recorded and available on this website.