Join the webinar on Teams here
To reduce the impact of climate change, the world needs to reduce the CO2 emissions and nearly reach net-zero emissions by 2040. Although strategies to reduce emissions, such as renewable energy, carbon capture and storage or utilization (CCS/CCUS), energy efficiency and avoiding deforestation are all critically important, it may not be enough to reach the 1.5 °C target of the Paris Agreement.
Reaching net zero and beyond requires strategies that actively remove CO2 from the atmosphere, and Direct Air Capture (DAC) might be one solution. DAC technologies extract CO2 from the atmosphere and is very flexible when it comes to where it can be operated. The captured CO2 could be used in products or stored in underground geological formations.
In this webinar you will hear more about the impact DAC might have, and the challenges the technologies are facing.
No pre-registration is needed, the webinar is open to anyone.
Agenda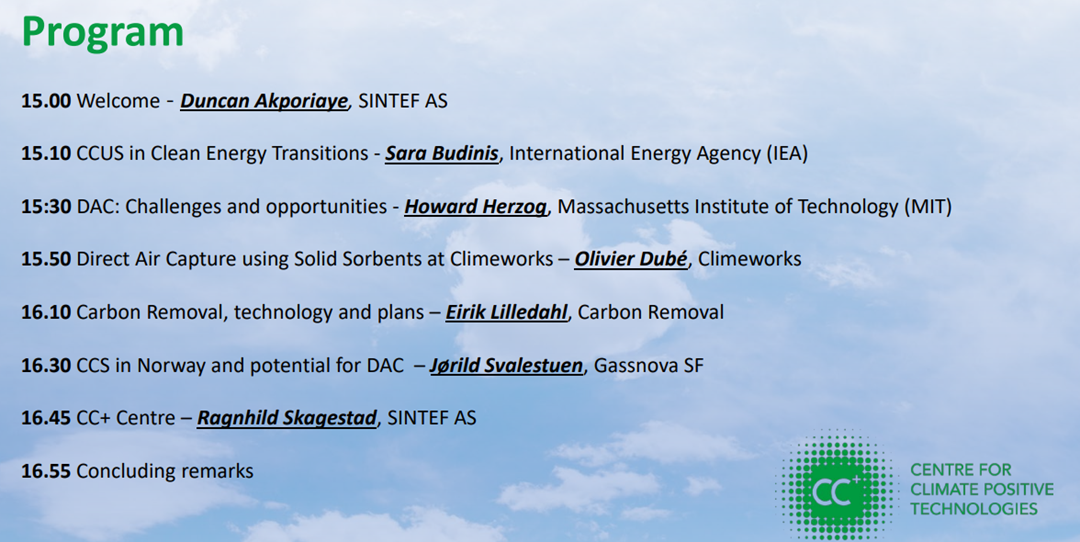 Please download the full program here
The recording of the webinar Direct air capture the 9th of March 2022 is available on this link. https://www.youtube.com/watch?v=Q5XrZlJC7gs