Tor Olav Sunde
Research Scientist
---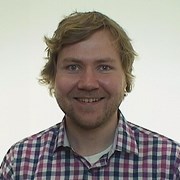 Unit:

Department:

Office:

Oslo
My background and main competence is on materials science and technology, and on the application of materials to energy-related applications. Mainly ceramic oxides, but also metals, semiconductors and polymers. I am preparing these materials in different shapes, powders, nanomaterials, thin films and fibres. I also focus on the application of these materials in various fields, mainly related to energy conversion and storage, batteries, hydrogen fuel cells and electrolysers, solar cells, sensors.
Education
Post doc, Northwestern University, USA, 2013-2014
PhD Department of Materials Science and Engineering, NTNU, 2009-2013.
MSc in Materials Chemistry and Energy Technology, NTNU, 2004-2009.
Competence and research areas
Materials science: powder synthesis, electrospinning, thin film deposition
Batteries: solid state batteries, dry processing of battery electrodes.
Hydrogen: PEM fuel cell and electrolysers, catalyst synthesis.
Solar cells: ITO thin films, silicon thin film deposition, perovskite solar cells
Piezoelectric oxides
Contact info
Visiting address:
Forskningsveien 1
Oslo