Sven Even Borgos
Senior Research Scientist
---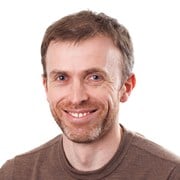 Unit:

Department:

Office:

Trondheim
I have my education/qualification from NTNU (Trondheim, Norway) including temporary residencies in Lyon (PhD) and Copenhagen (post doc.). Having worked with both molecular genetics, analytical chemistry and nanomedicines, all this has now come together in a main research focus on nucleic acid (RNA, DNA) based therapeutics. I have more than 15 years' experience as research scientist and senior research scientist in SINTEF.
Education
1995-2000: MSc in Physics and Mathematics, NTNU (Trondheim, Norway), specialized in biophysics and medical technology. Diploma in molecular genetics.
2001-2006: PhD in biotechnology, NTNU (Trondheim, Norway), genetic engineering of antibiotic-producing bacteria (Streptomyces)
2007-2011: Post doc. in systems biology, modeling of metabolism in Pseudomonas fluorescens, NTNU (Trondheim, Norway)
Competence and research areas
- Nucleic acid therapeutics, including mRNA and siRNA, nanoformulation and characterization.
- Physicochemical characterization of nanomedicines and other nanoparticles.
- Analytical chemistry with an emphasis on liquid chromatography coupled to mass spectrometry (LC-MS/MS).

Linkedin
https://www.linkedin.com/in/sven-even-f-borgos-9211214/
ORCID
Contact info
Visiting address:
Sem Sælands vei 2 A
Trondheim