Stine Hellum Braathen
Research Manager
---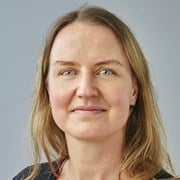 Unit:

Department:

Office:

Oslo
Stine Hellum Braathen is research manager at SINTEF Digital, Department of health research, Global health research group. She has extensive research experience from many African countries, as well as from Europe.
Education
BA in anthopology from University of Western Australia, Master of Philosophy in International Community Health from University of Oslo and PhD in Psychology from Stellenbosch University, South Africa.
Competence and research areas
Her main research interests are access to services, care, participation and inclusion of vulnerable groups, such as people with disabilities, people with mental illnesses and other chronic health conditions. She is particularly interested health promotion and illness prevention.

Linkedin
https://www.linkedin.com/in/stine-hellum-braathen-41563647/
ResearchGate
https://www.researchgate.net/profile/Stine-Braathen
ORCID
Contact info
Visiting address:
Forskningsveien 1
Oslo