Solvår Irene Wågø
Research Manager
---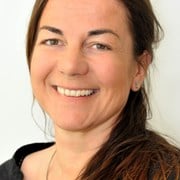 Unit:

Department:

Office:

Trondheim
Solvår Wågø`s research deals with the interaction between user and physical surroundings, evaluation of buildings in use, revitalization and upgrading of buildings, and quality in the built environment. She has been involved in a number of social housing projects, often focussing on housing quality for vulnerable and marginalized groups in society. She leads the Geminicentre "HelsA" (Health-promoting architecture and physical surroundings) together with NTNU Arch.fac. and NTNU Social research.
Education
PhD candidate, Norwegian University of Science and Technology (NTNU), Faculty of Architecture and Fine Art, Trondheim, Norway, 2015
M.Sc. in Architecture, Dep. Of Architecture, KTH Stockholm, 1993

Competence and research areas
Energy-efficient homes and the user perspective.
Usability.
Upgrading and cultural heritage.
User perspective on perceived quality.
Use of qualitative (and quantitative) methods.
Health-promoting physical environment.
Revitalization and upgrading of buildings.
Contact info
Visiting address:
Høgskoleringen 7 B
Trondheim