Ragnhild Halvorsrud
Senior Research Scientist
---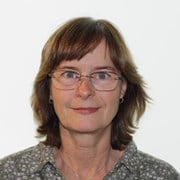 Unit:

Department:

Office:

Oslo
My academic experience ranges from human-computer interaction to service innovation and modeling of patient pathways. Currently, I lead research and innovation projects that focus on both the practical and theoretical aspects of service innovation and user modeling. I oversee the work on CJML, the visual modeling language for customer journeys that emphasizes precise descriptions and analysis of service processes.
Education
Ph.D. in biophysics, University of Oslo (1996).
Innovation management in a global perspective, BI Norwegian Business School (30 credits, 2016).
Competence and research areas
I have expertise in the following fields: service science, human-computer interaction, and modeling of customer journeys. Additionally, I have previous experience in developing VR multi-user simulators (collaborative virtual environments). I have also worked in the industrial sector for 11 years.
Linkedin
https://www.linkedin.com/in/ragnhildhalvorsrud/
ResearchGate
https://www.researchgate.net/profile/Ragnhild-Halvorsrud
ORCID
Contact info
Visiting address:
Forskningsveien 1
Oslo