Jesper Friis
Senior Research Scientist
---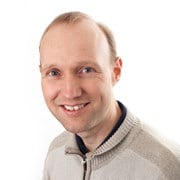 Unit:

Department:

Office:

Trondheim
Jesper Friis is a senior scientist in the Materials Physics group in Trondheim. He has a background in physics with a PhD in transmission electron microscopy and a postdoc on microstructure modelling in aluminium before he started in SINTEF in 2007. Here has he worked with multiscale modelling from atomistic to microstructure level as well as digitalisation. He has a long experience with EU projects and serves in the board of directors in the European Materials Modelling Council (EMMC).
Education
Master of Science in Applied Physics and Electrical Engineering at Linköping University, Sweden (1999)
PhD in physics at NTNU, Norway (2003)
Competence and research areas
Main competences: ontologies, interoperability, multiscale modelling, atomistic modelling, microstructure modelling, thermodynamics, electron diffraction.

Research areas: data-driven material science, aluminium, solar cells, batteries, metal dusting, ...

ORCID
Contact info
Visiting address:
Høgskoleringen 5
Trondheim