Hanne Hjelle Hatlebrekke
Master of Science
---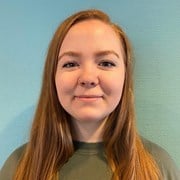 Unit:

Department:

Office:

Trondheim
Hanne Hjelle Hatlebrekke has worked at SINTEF Ocean since 2021. She works with using fisheries technology to sustainably harvest and manage our marine resources, and is concerned with utilising nature is a way that maintains biodiversity and ecosystem functions.
Education
Bachelors in Marine Zoology (2018) from Newcastle University, England.
Masters in Fisheries Biology and Management (2021) from University of Bergen, Norway.
Competence and research areas
Efficiency and selectivity of fishing gear, fisheres management, biodiversity, gear materials, new marine resources, research communication, field work.
Linkedin
https://www.linkedin.com/in/hanne-hjelle-hatlebrekke/
ORCID
Contact info
Visiting address:
Brattørkaia 17 C
Trondheim