Annual Report 2019
---
2019 was a good year, but 2020 will be uncertain for us all
2019 was a good year for the SINTEF Group. We achieved a net operating margin of 5.4 per cent, which is in line with our stated ongoing minimum target of 5 per cent. We experienced healthy growth in terms of sales, and at the start of 2020 our order books were healthy, with positive trends in most of SINTEF's market segments.
All of which promises well for our future prospects. However, the times we live in are no longer normal, and the global crisis triggered by the coronavirus has created a virtual state of emergency across large parts of the world. As yet, we do not know what the consequences of this will be, and we may be facing very difficult months ahead. However, one thing is certain. Research and innovation will be even more crucial to the development and adaptivity of the business community and wider society when normality is eventually restored. This work cannot be brought to a halt by a crisis. SINTEF's ambition is that our expertise and research shall make an active contribution during this difficult situation. However, now in April, it is very uncertain how the coronavirus crisis will impact on SINTEF's activities and results for 2020 as a whole.
In March 2019, the SINTEF Board approved a new corporate strategy. The UN's 17 sustainability goals now formally constitute the foundation of our work, and we are actively seeking growth opportunities that support these goals. I am pleased to be able to say that in 2019 our net sales linked to research and innovation activities grew by as much as 5.6 per cent, with the highest levels of growth in eco-friendly, digital research projects. SINTEF's ambition is to be a world-leading research institute, operating with an independent and market-oriented focus, offering research conducted to the highest scientific standards and helping to promote commercial competitiveness among our clients and beneficial solutions for society as a whole.
In order to boost our opportunities to meet the aims of this strategy, we have implemented a number of measures that promote SINTEF's multidisciplinarity by invoking collaboration between various research groups across the entire organisation. Multidisciplinarity is prerequisite for the creation of effective solutions to complex problems. With international specialist expertise in many fields of scientific research, SINTEF has great opportunities to participate in the development of the solutions of the future.

Alexandra Bech Gjørv
CEO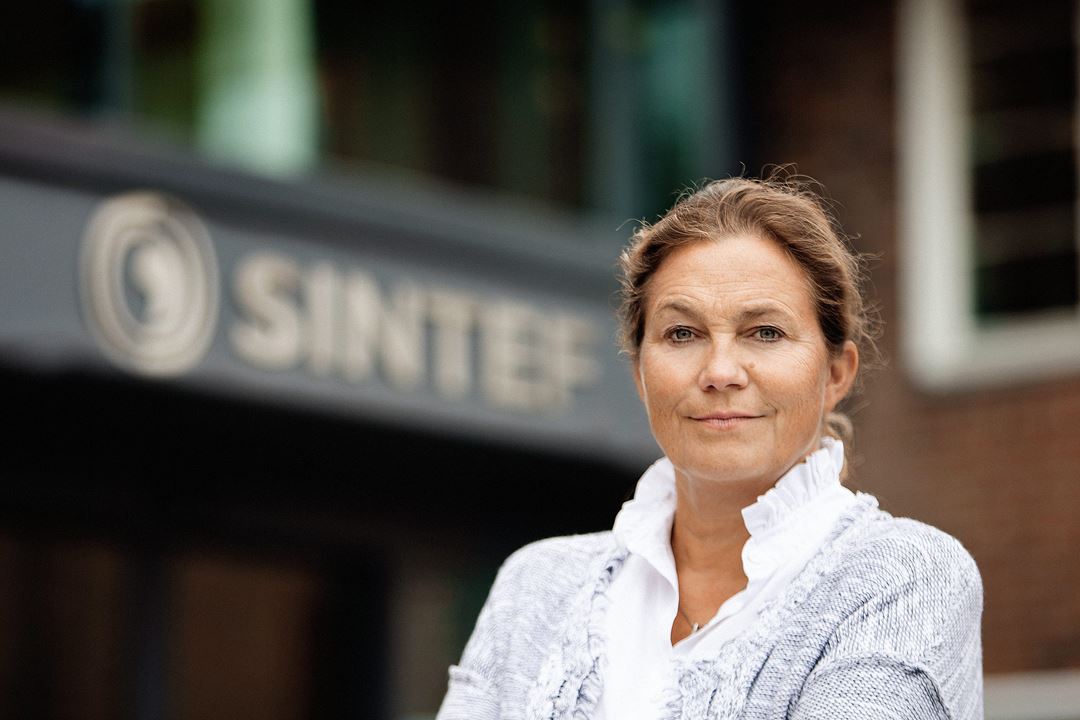 About SINTEF
SINTEF is one of Europe's largest independent research organisations. Every year we carry out several thousand projects for customers large and small.
We deliver innovation by developing knowledge and technologies that are brought into practical use.
SINTEF is a broad, multidisciplinary research organisation with international top-level expertise in the fields of technology, the natural sciences, medicine and the social sciences. We conduct contract R&D as a partner for the private and public sectors, and we are one of the largest contract research institutions in Europe.
Our vision is Technology for a better society.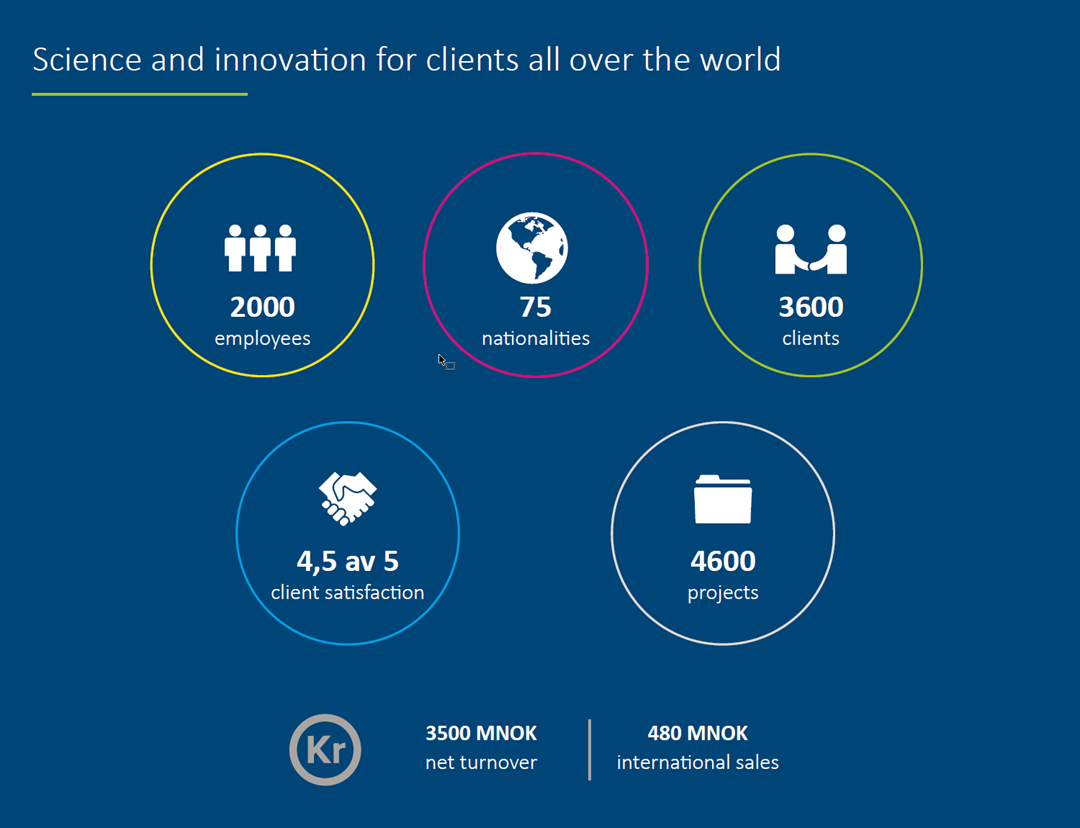 Highlights from the SINTEF-year 2019
Report of the Board of Directors
2019 was a good year for the SINTEF Group.
We experienced an increase in demand and achieved excellent financial results in line with our objectives.
Our employees report high levels of motivation, team spirit and belief in the future, and our projects are receiving excellent feedback from our clients.
Key numbers 2019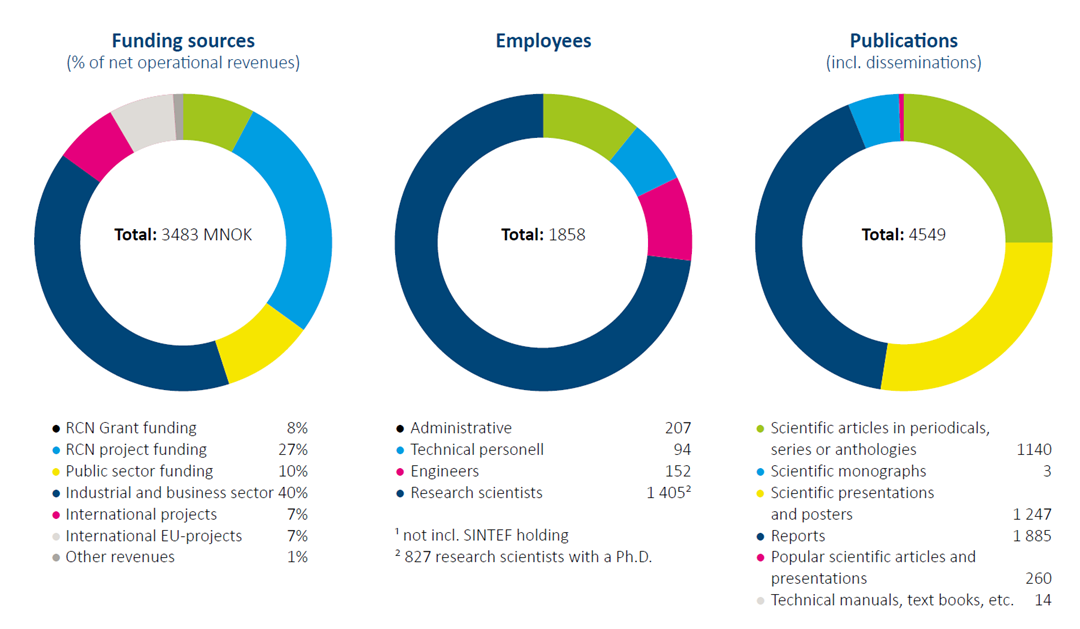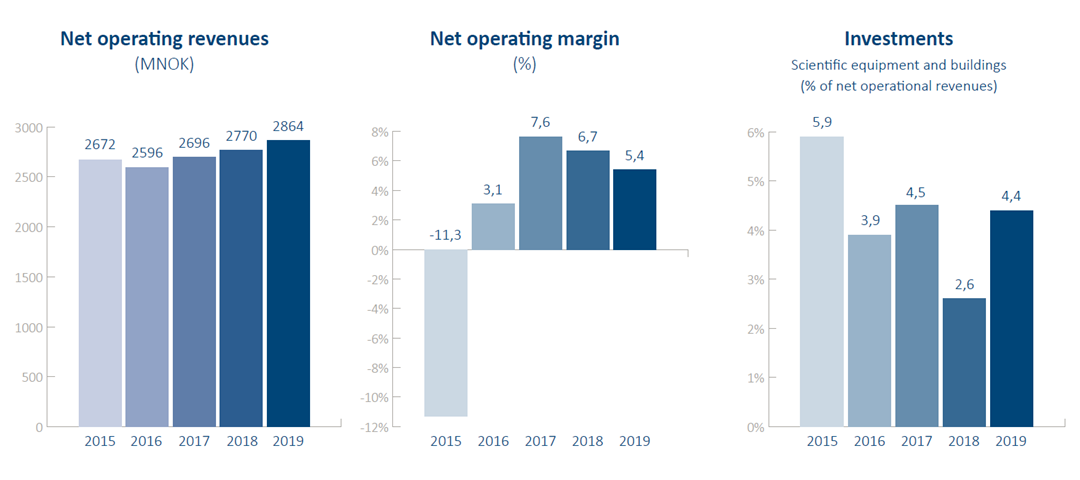 Key financial figures for research institutes
HSE Annual Report
At SINTEF, HSE issues are assigned the highest priority. This means ensuring that the working environment is both safe and serves to promote employees' personal development, job satisfaction and good health. SINTEF is working systematically to ensure our employees' safety and to safeguard their working environment. Our aim is to make sure that our HSE standards are in accordance with SINTEF's overall strategy, policy and objectives on HSE issues.
SINTEF's main strategy defines four general objectives for HSE-related work.
We shall maintain a sound and health-promoting working environment
We shall achieve zero occupational sickness absence
We shall incur zero levels of accident, injury, damage and loss
We shall operate with a clear environmental profile
SINTEF Annual report 2019 as pdf