By 2030, we will need to have developed a system of large-scale, flexible and cost-effective logistics that enable the collection, transport, injection and safe storage of millions of tonnes of CO2 per year. The could be part of the Longship project or a separate initiative. For example, Stella Maris CCS envisages handling CO2 of different qualities from a variety of sources around the North Sea. As a major cost-saving concept, the CO2 will be transported by ship and directly offloaded offshore, heated through exchange with seawater and injected into saline aquifers.
However, large-scale maritime CO2 transport and offshore offloading and injection has yet to be implemented, and there are several knowledge gaps that need to be filled. CO2FFER will address the most urgent ones by providing key models and experimental data to support the deployment and further development of safe and cost-efficient concepts for both CO2 transport by ship and offshore CO2 injection.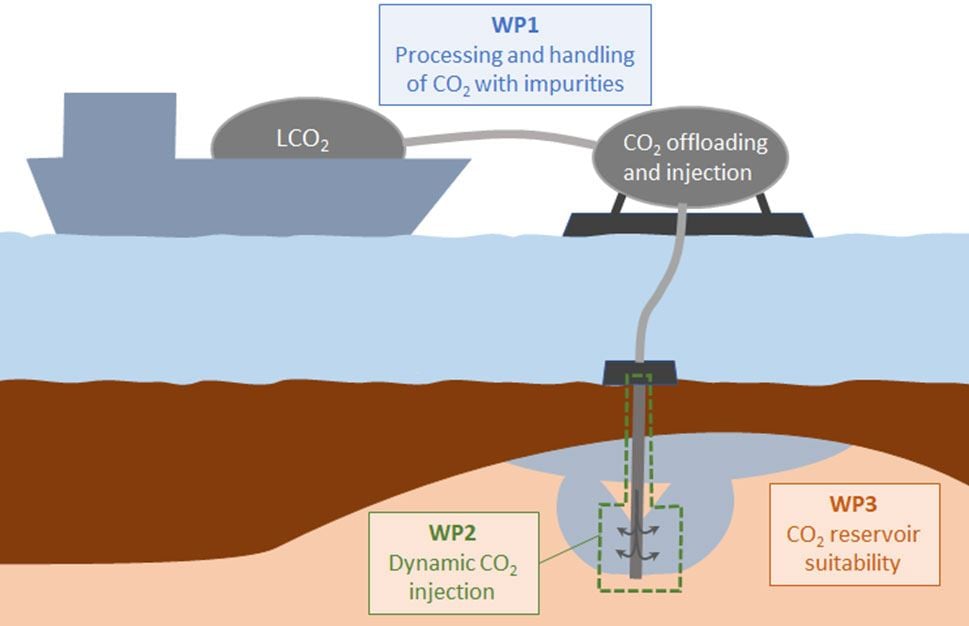 CO2 ship transport
CO2FFER will conduct thermodynamic analyses to quantify the effect of impurities on CO2 processing, liquefaction and ship transport, which will reduce the need for costly purification and dehydration of CO2 prior to liquefaction. In addition, the project will reveal the potential of solid CO2 formation (as dry ice) and the consequences of this, in order to increase operability and safety at optimal transport conditions close to the triple point of CO2.
Offshore CO2 injection
CO2FFER will perform simulations and experiments on vertical CO2 flow, well integrity and injectivity that will quantify the effect of varying or intermittent injections of possibly cold CO2 on well materials and injectivity. This will be used to provide guidance on the operation and for-purpose construction of CO2 injection wells. Furthermore, the project will describe the effect of various geological settings on the optimal operation mode for direct CO2 injection from ships, thereby maximising practical storage capacity and minimising containment integrity problems.
Overall, CO2FFER will significantly contribute to the realisation and future extension of the Longship project, and to the future use of CCS technology in other offshore projects both in Norway and elsewhere.
CO2FFER is a collaborative and knowledge-building project (KSP) associated with the Norwegian CCS Research Centre (NCCS). The project also has synergies with the ACT RETURN project.
Partners: