Safety footwear must protect the wearer from a variety of workplace hazards and potential injuries. E.g. compression, puncture, chemical exposure, heat, low temperatures, falling objects, slippery surfaces, ankle support, etc. These protection requirements often lead to heavy and stiff shoes that reduce comfort and may contribute to musculoskeletal disorders (MSDs) over time. MSDs are the number one cause of sick leave in Norway, and has huge costs for the individual, the industries, and the society.
Furthermore, production of safety footwear is complex and requires a large variety of materials that leads to substantial environmental impact. The apparel and footwear industry today are responsible for 10% of the worlds greenhouse gas emissions and 20% of industrial water pollution. This shows a need to reduce the environmental impact of the footwear industry.
Producing lightweight and comfortable occupational shoes with adequate protection and reduced environmental impact is very challenging. To achieve this, we have established a collaboration between researchers from SINTEF and SINTEF Manufacturing, shoe industry professionals and end-users. The project is initiated and owned by Wenaas Workwear AS, a Norwegian company that makes workwear and personal protective equipment for women and men in a variety of sectors.
Superior comfort and proper functionality will be ensured using an iterative user-centered-design approach. This means that the end users will take part in the entire development process. To document improvements in occupational health and comfort we will use scientific methods involving both SINTEF laboratories and studies carried out in the field. These activities will be led by researchers from SINTEF Digital, department of Health.
Improvements on environmental impact will be documented using Life Cycle Analysis (LCA) of both materials and production processes. This work will be led by researchers from SINTEF Manufacturing. We also aim to develop guidelines on how environmental life cycle analysis methodology could be used in the early design stages of developing safety footwear. Knowing that over 80% of all product-related environmental impacts are determined during the design phase of a product, this kind of guideline could be a clear novelty for this industry.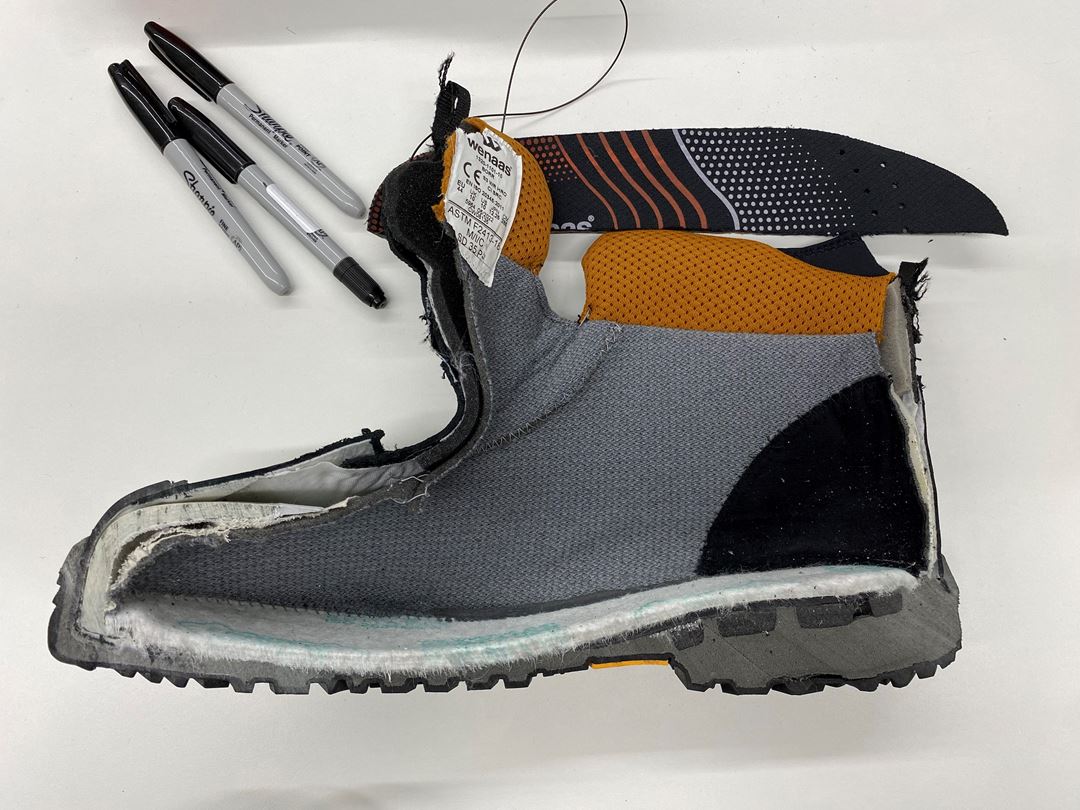 Cross section of a safety shoe from Wenaas. Photo SINTEF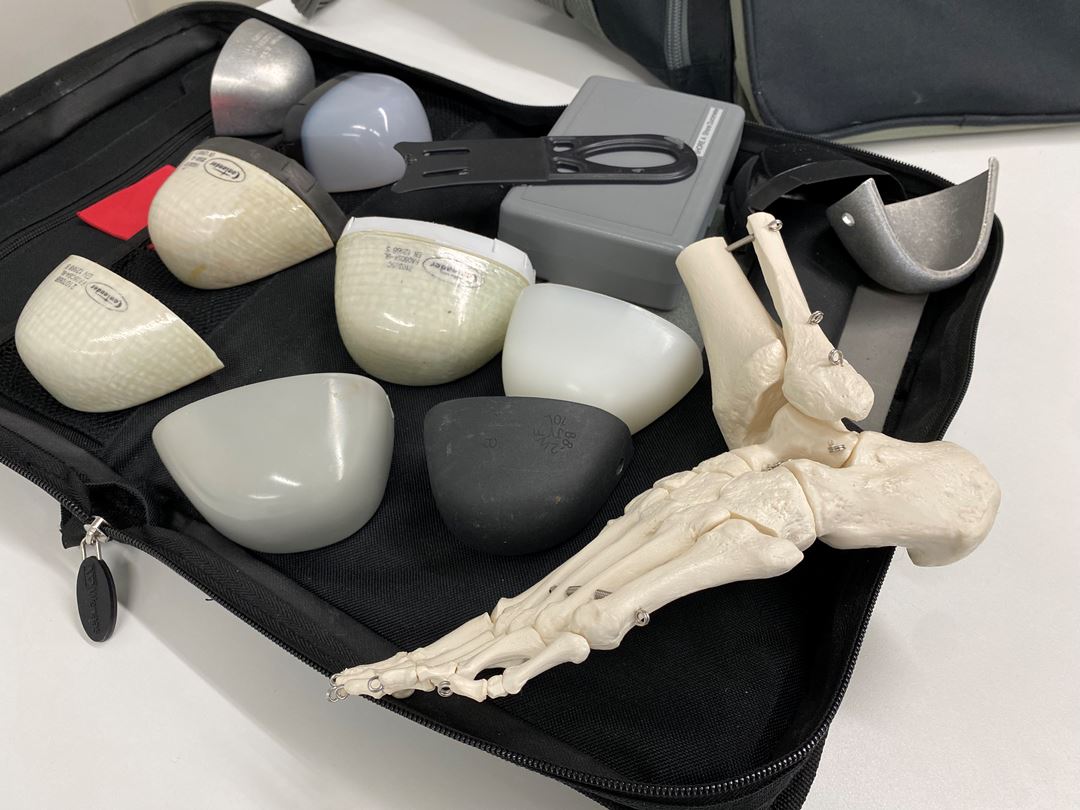 Various protective toecaps. Photo SINTEF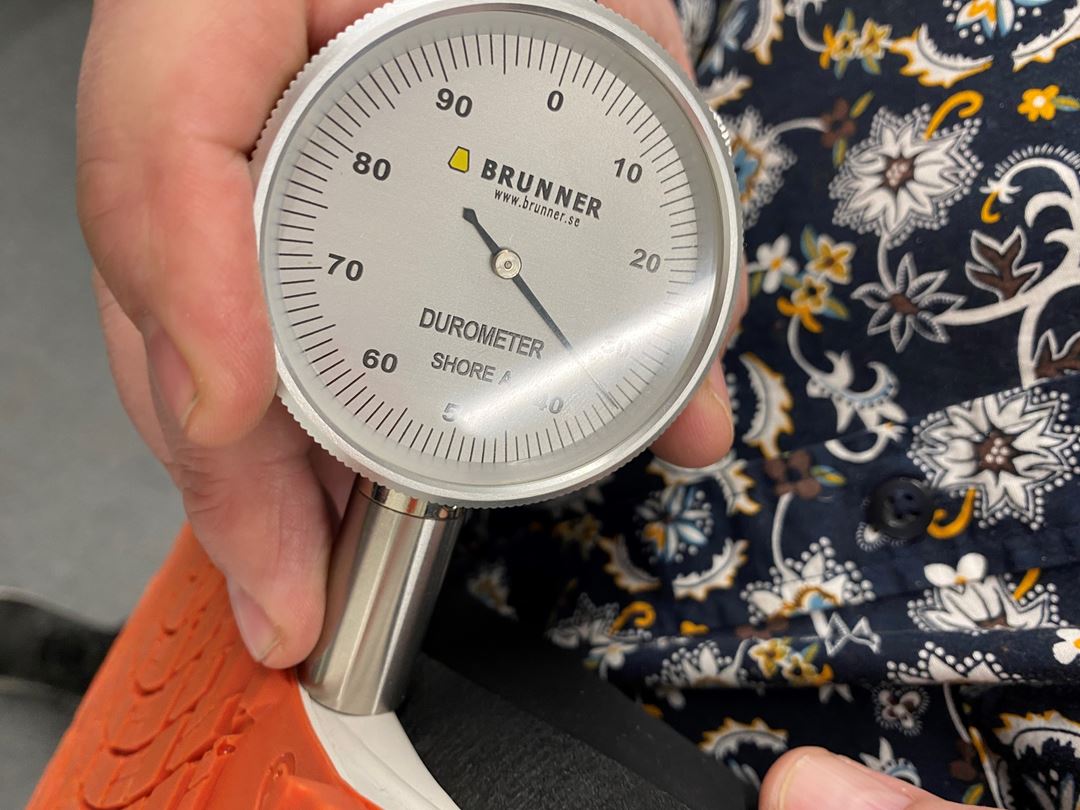 Measuring the hardness of midsole materials. Photo SINTEF