Skiing is part of the Norwegian identity and innately defines Norway culturally in a global context. With the future challenges of climate change and lack of snow in people's communities, the foundation of skiing and other traditional winter activities is being threatened. The presence of snow is also an important attraction for winter tourism.
Snow for the Future – Phase II is an international joint project to develop climate-friendly technology for securing cost-efficient snowmaking at skiing resorts and winter sport facilities. The main object of the project is to develop novel technology for energy-efficient production of man-made snow, including snowmaking independent of the outside temperature.
Snowmaking with heat pumps
The project focuses on systems and solutions that ensure sustainable snow production with an overall limited environmental footprint. Heat pump technology using climate-friendly natural refrigerants will be developed, with a focus on utilizing the 'cold' side for snowmaking and the 'warm' side for heating purposes.
One possibility is to use surplus heat from the snowmaking for heating of nearby buildings, swimming pools, etc. In an opposite manner, a viable option is to utilize the surplus heat from industrial processes or a district heating network in warmer periods of the year for snowmaking. A such integrated system also entails interim storage and reuse of snow.
In a system with combined production of snow and delivery of heat, the snowmaking itself becomes a side-product with minimal demand for extra energy. This enables the feasibility of cost-efficient snow production in urban areas. An illustration of an integrated snow system, with temperature independent snowmaking, storage and reuse of snow, and utilization and delivery of surplus heat is shown below.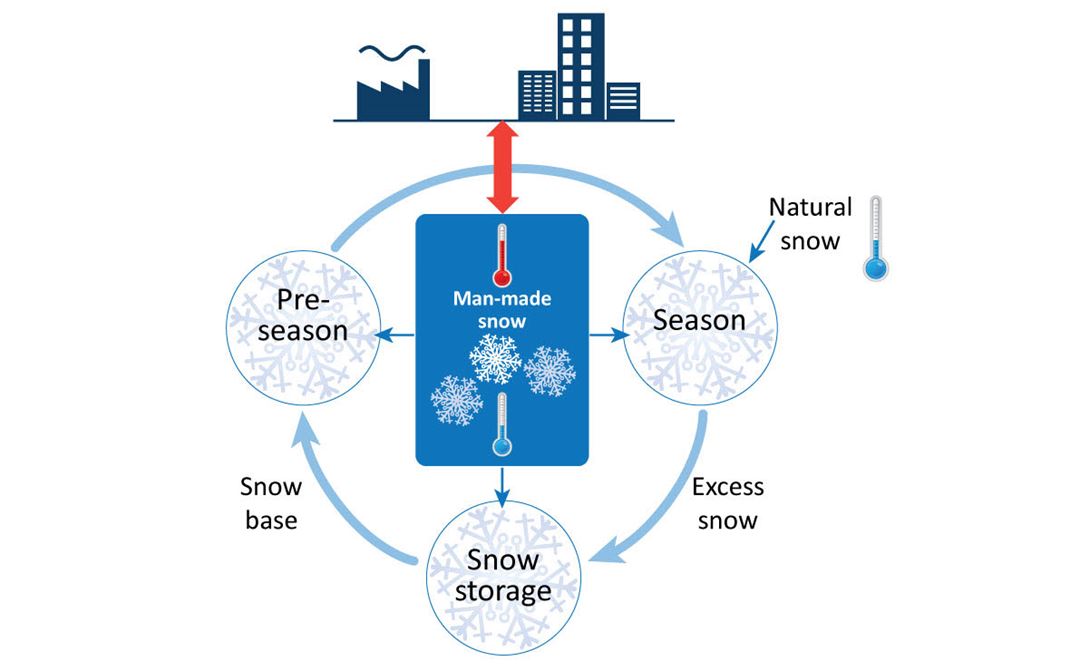 During the project, a competence centre (Centre of Snow Expertise) for exploitation of the Snow for the Future technology will be established.
The Centre of Snow Expertise will share knowledge regarding temperature-independent snowmaking, snow storage, and slope and track preparation, as well as act an international research and business network. Snow for the Future – Phase II collaborates with the Norwegian-Swedish Interreg project SNÖRIK and the Centre for Sport Facilities and Technology (SIAT) at NTNU.
Snow for the Future – Phase II is a continuation of the corresponding Phase I project (2017/2018). The project is coordinated by SINTEF, with other involved project partners being NTNU, Trondheim Municipality, the Norwegian Ski Federation, and the Norwegian Biathlon Association. The total budget of the Phase II project is 9 MNOK, of which 4.4 MNOK is granted by the Norwegian Ministry of Culture and Ministry of Climate and Environment. Snow for the Future – Phase II is a three-year project running from 2019 to 2022.