GATEWAY
About
---
Project facts
GATEWAY is a Horizon 2020 project
Start: May 2015
Duration: 2 years
Budget: 787 000 €
6 partners
Our motivation
In order to bring CCS closer to commercial realization in Europe, the viability of alternative CCS projects must be explored by analysing the CCS chains as an integrated system and considering its interactions with its global environment.
There is a need to identify a portfolio of promising CO2 projects and the most efficient incentives, for realization of European CO2 transport infrastructure and to show that these would be robust and feasible in long-term perspective.
The GATEWAY project will provide a common strategic decision basis, enabling all stakeholders to identify and implement measures that can accelerate development, up-take, and deployment of technologies needed for realisation of large scale CCS projects based on European CO2 transport infrastructure.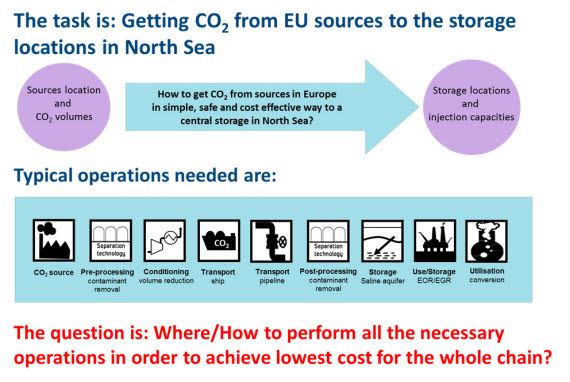 GATEWAY landscape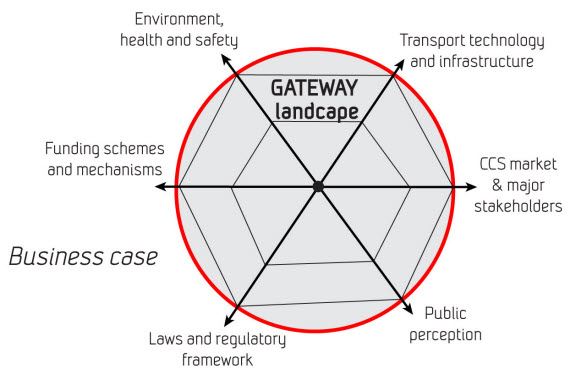 GATEWAY objectives
Developing and defining a pilot case for European CO2 transport infrastructure:
A comprehensive integrated project providing a model for establishing European CO2 infrastructure
Incorporating technology, policy-making, international law, regulatory aspects, business development, and tentative consortium
Make assesment of funding needs and resources
Follow the Berlin model to realize the Pilot case project
GATEWAY concept and approach
Efforts will be made to attract key players
Different sources of private and public funding will be assessed as how these sources can be arranged to work together
Design for public perception assesment will be developed
Central European CO2 hub (Germany, Belgium, France, Netherlands)

Potential CO2 sources adjacent to the North Sea Basin (Germany, UK, Netherlands) combined account for 1.6Gtpa of CO2

Potential sinks in the North Sea (UK, Netherlands, Norway, Denmark)
Methodology and toolbox
systematic approach ensuring comparability & reproducibility
Scenario analysis
provide framework describing the non-quantifiable factors to define the environment of the chains
CCS integrated chain simulation tool
provide models for integrated quantitative evaluation of the KPIs –measures of the potential of various CCS chain options
Case studies
provide insight on the effect of key uncertainties related to the CCS chain realization