Structured light is a reliable, robust and highly accurate method for 3D range imaging. One or more light patterns are projected onto the scene and an off-axis camera captures images of the patterns. The shape of the objects in the scene will distort the light patterns. When these distortions are observed with a camera and analyzed in software, we are able to calculate the 3D shape of the surface very accurately.

SINTEF ShapeCrafter 3D
SINTEF has developed a prototype of a new 3D camera, the SINTEF ShapeCrafter 3D, that can produce dense 3D point clouds with >2 million points with ~0.1mm depth resolution at a rate of 12Hz. This is achieved through the use of high-speed projection technology, a USB3 camera with high frame rate and real-time processing.
Prototype of the SINTEF ShapeCrafter 3D
Please see the ShapeCrafter 3D page for more information about the sensor.
3D Shape Measurement with a Novel Tip-Tilt-Piston micro-mirror
Commercial structured light sensors based on DMD- or LCD-projectors have a number of drawbacks, such as limited depth of focus, large sensitivity to ambient light and low light efficiency. To overcome some of these problems, SINTEF is currently developing a prototype of a 3D imaging system based on a laser light source and a novel tip-tilt-piston micro-mirror. The micro-mirror has been designed and manifactured by SINTEF Microsystems and Nanotechnology. The prototype utilizes optical interference for generating sine patterns. This provides high light efficiency and good focusing properties (i.e., the fringes are always in focus). Furthermore, the use of a laser and a bandpass filter allows easy removal of ambient light.
We have implemented a method for robust 3D shape measurement that requires only a set of phase shifted sine patterns with two different frequencies. The phase and the frequency of the projected sine patterns can be rapidly altered by changing the voltages that control the tip/tilt- and the piston axes of the micromirror. The fast response of the micro-mirror in combination with a high-speed camera and real-time processing allows 3D range image acquisition at video rates with sub-millimeter accuracy.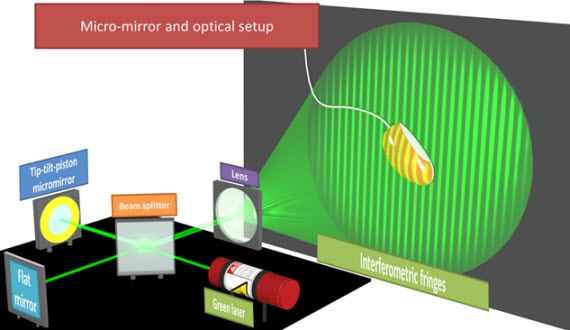 Prototype of interferometric 3D imaging system. The tip-tilt-piston micro-mirror is mounted in one of the axes of a Michelson interferometer.
Contact information
SINTEF can help your company to tailor/adapt our 3D imaging sensors to your application. Please contact Ansattinfo mangler for more information.