The Seagriculture EU 2023 conference took place in Trondheim this week, bringing together 221 delegates from 26 countries to discuss the road forward for seaweed cultivation.
Over the course of two days, participants shared knowledge, experiences, challenges and solutions with fellow participants, in order to pave the way for future industry growth.
The market for seaweed cultivation is ever growing, with applications ranging from food and feed to bioplastics and carbon capture solutions, and with the second longest coastline in the world after Canada, Norway's ocean areas boast much potential for this growing industry.
Facilitation and collaboration are essential
Minister of Fisheries and Ocean Policy for Norway Bjørnar Skjæran opened the conference, together with SINTEF Ocean CEO Vegar Johansen. Skjæran emphasised the enormous potential that lies in the seaweed industry and alluded to a bright future ahead.
In order to realise this potential, however, Skjæran noted that both governmental and industry actors must be prepared to facilitate this growth and find solutions to the challenges that arise.
One key factor for this is collaboration between stakeholders, which Skjæran discussed as being completely essential for the industry to succeed, together with co-existence with other ocean industries, such as wind parks at sea.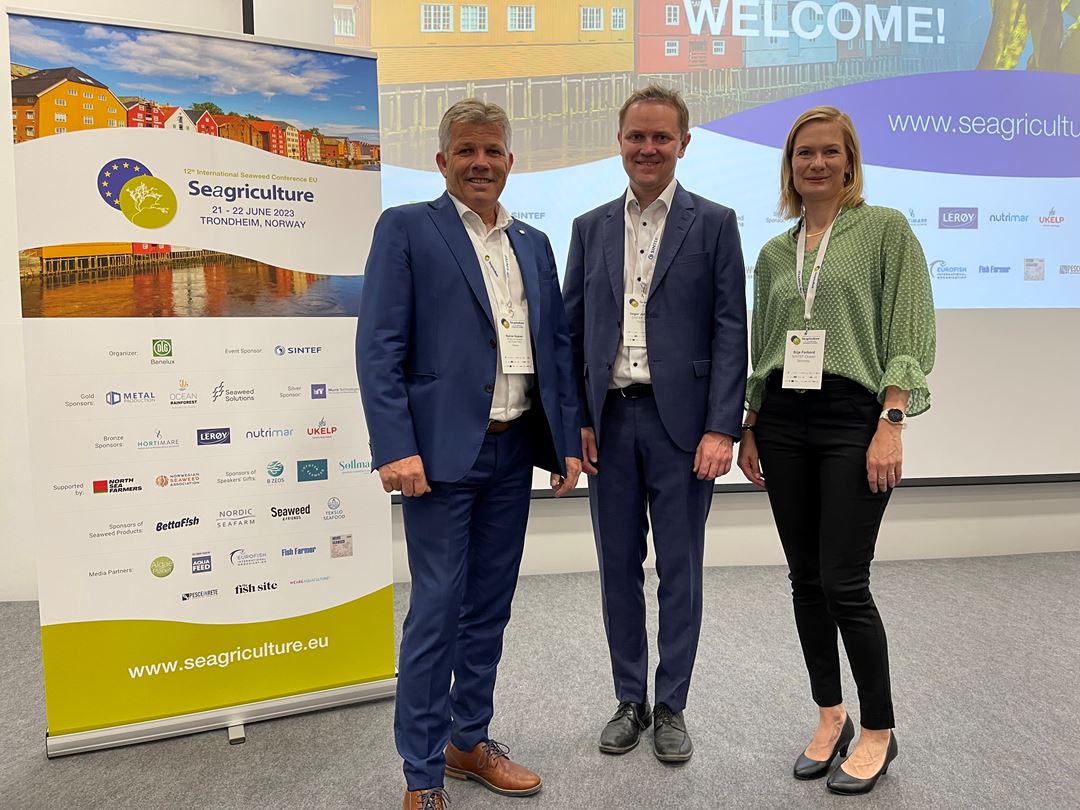 Bjørnar Skjæran, minister of fisheries and ocean policy for Norway, together with Vegar Johansen, CEO of SINTEF Ocean and Silje Forbord, research manager at SINTEF Ocean.
Research infrastructure designed to drive innovation
SINTEF Ocean CEO Vegar Johansen also spoke of the great potential that lies in the ocean and ocean-related industries.
"Research infrastructure is fundamental for driving the industry forward, and this is something that SINTEF Ocean has placed high on the agenda," said Johansen. "Our newly established research centre, the Norwegian Seaweed Centre, will provide world-class infrastructure to facilitate growth and collaboration within the industry, and we look forward to working together with all of you here today."
Bringing experts together
The seaweed cultivation industry boasts a great potential, but also comes with challenges that need to be overcome in order to succeed. Meeting arenas like Seagriculture EU 2023 gather the field's leading experts together to tackle these challenges and build a network for collaboration on the road ahead.
For more information about SINTEF Ocean's new research infrastructure, visit https://norsktaresenter.no.