What is FLEX4FACT?
FLEX4FACT is a large-scale research project backed by 23 partners across five European countries.
Our main objective? To help factories operate smarter by using renewable energy more efficiently and making their manufacturing processes more flexible.
Why does it matter? It means companies can reduce their energy costs and rely less on fossil fuels without sacrificing productivity. Making European companies more competitive, and the manufacturing industry more sustainable.
FLEX4FACT will demonstrate and validate the effectiveness of its digital tools and physical assets in five different industrial pilots. The pilots cover a range of manufacturing types, from steelmaking to diving equipment, and from automotive parts to solar collectors.
Highlights from FLEX4FACT's first year
In our first year, we have made strides in making European factories more energy-efficient and flexible.
Notable achievements include the development of the System Reference Architecture and developing digital twins of selected manufacturing processes and energy systems. Furthermore, we have introduced the SanFlex decision-support tool and developed an integrated methodology for the techno-economic and life-cycle assessments of the project developments.
Together, these efforts represent a step towards more flexibility in the electricity grid system, by supporting industrial actors in balancing their energy use and to further supply self-generated energy into the European grid.
What did we develop?
System Reference Architecture
This plan shows how to make a factory's energy use more flexible and efficient. Think of it like the blueprint of a house. The blueprint is organized into layers that talk to each other. The bottom layer deals with physical things like solar panels and batteries, manufacturing equipment and control systems. The layer above sorts and manages data. The third layer uses that data to simulate different energy-use scenarios. At the top, a management layer makes final decisions about energy use.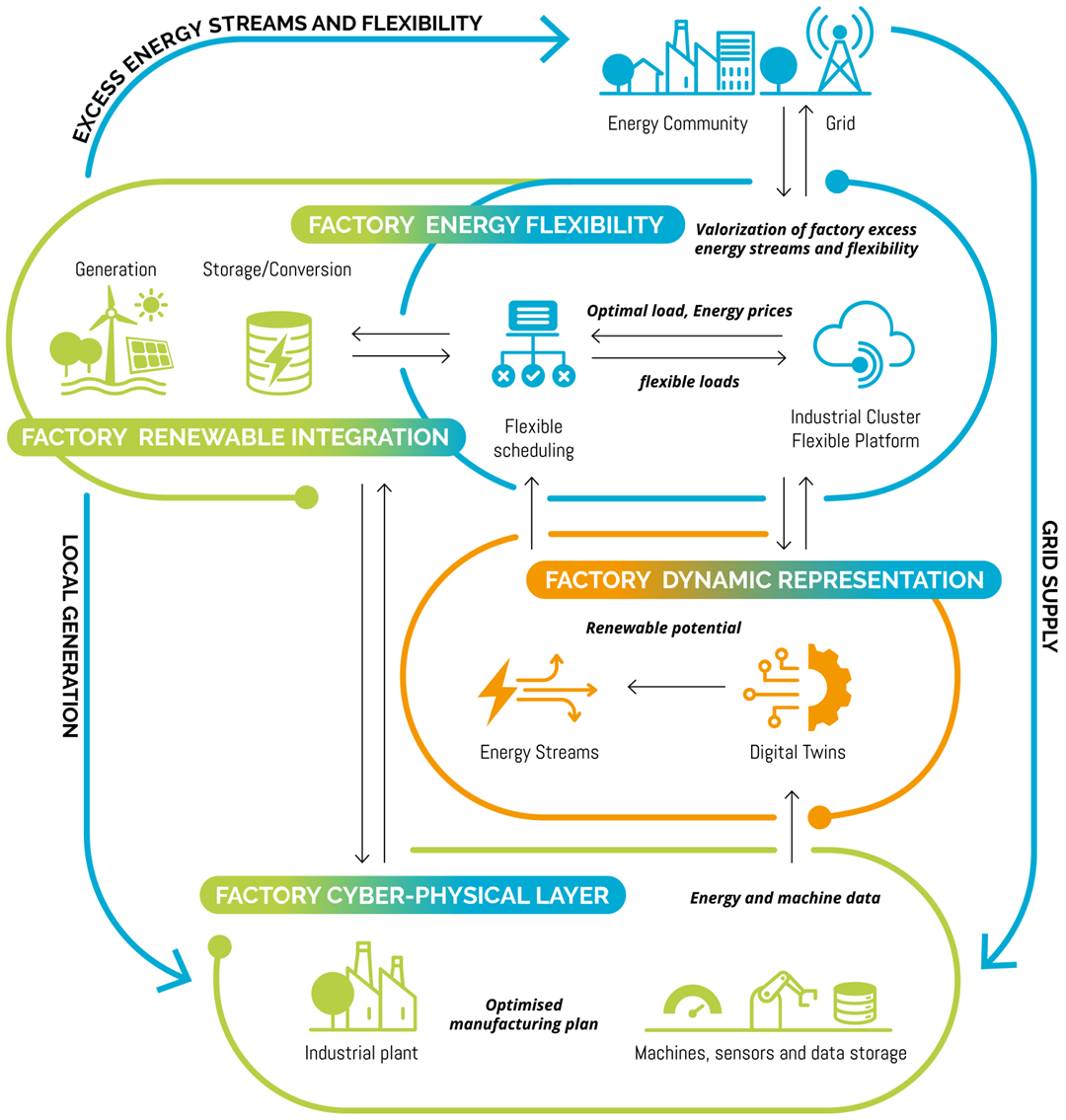 Digital Twin Factories
A digital twin is a virtual model that lets you see the impact of different actions without doing them in real life. We are developing several digital twins for specific manufacturing processes and factories, from electronics to steel manufacturing.
During the first year, our team also developed a smart algorithm for making manufacturing more flexible. This program can schedule tasks and manage resources in a way that minimizes CO2 emissions by analyzing existing energy use patterns and electricity rates to support decision-making.
SanFlex Decision Support Tool
The SanFlex Decision Support Tool is like a GPS for energy use. It shows you how energy flows through a factory, including how much it costs and how much CO2 is emitted. Additionally, the tool can also reveal what would happen if you made changes, like adding solar collectors or recycling waste heat.
SINTEF's role
SINTEF is involved through its Manufacturing (Coordinator), Energy and Industry institutes. SINTEF Manufacturing is leading the development of the System Reference Architecture and the description of the current and future situation in the industrial use cases. SINTEF Energy leads the development of the FLEX4FACT Energy framework together with UPC, IFE and Evolvere. SINTEF Industry leads the overall techno-economic evaluation and life-cycle assessments, which aim to quantify the economic benefits and environmental improvements achieved with the project developments in the pilots and with the upscaling of the developed technology.
The Norwegian industrial pilot: INAVENTA solar
The Norwegian industrial pilot is at INAVENTA Solar. It includes the production of polymer solar collectors using unique materials and processes. The solar collectors produce renewable heat that can be used for domestic hot water preparation and to warm up factory buildings. The excess heat produced by the collectors can be stored in a borehole thermal energy storage (BTES).
The aim of this industrial use case is to:
Reduce scrap generation from the production processes to less than 5%, reducing wasted energy
Cover up to 60% of the heat demand of the factory by self-generated heat.
Recover 50% of the energy supplied to the thermal energy storage.
Reduce the factory's energy use by 20%
Find out more about the INAVENTA use case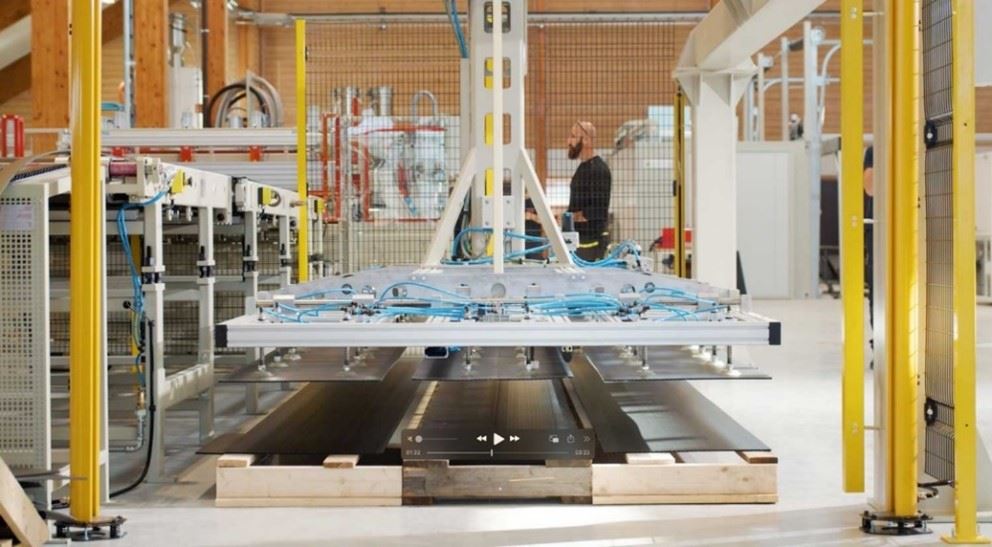 What's next for the project? 
The FLEX4FACT team is going to keep refining these tools with real-world data. We are also planning an online webinar together with some of our sister projects for fall 2023 to show the project's achievements.
Facts about FLEX4FACT
FLEX4FACT commenced its journey in June 2022 and is scheduled to continue its pursuits until November 2025. The project is funded by the European Union through the Horizon Europe Research and Innovation program, under grant agreement 101058657. The project is coordinated by SINTEF Manufacturing and involves in total 23 partners from five countries: Norway, Spain, Germany, and Ireland.
Funded by the European Union. Views and opinions expressed are however those of the author(s) only and do not necessarily reflect those of the European Union or the European Health and Digital Executive Agency (HADEA). Neither the European Union nor the granting authority can be held responsible for them.
Learn more about FLEX4FACT

Contact persons
SINTEF Manufacturing:




Ragnhild Johnsen Eleftheriadis,

SINTEF Industry:




Thiago Lima Silva,

SINTEF Energy:




Chiara Caccamo,