For thousands of years, we have worked to first understand, then manage our relationship with temperature. When it is too hot, we need to keep food and ourselves cool. When it is too cold, we need to heat our homes. Closed-circuit circulation technologies like refrigeration, air conditioning systems and heat pumps solved that problem, but they require working fluids to extract heat from one source and transfer it to another.
The CFC and HFC problem
A group of odourless manufactured chemicals, ­chlorofluorocarbons (CFCs) were widely used in ­aerosols, refrigerators, air conditioners and more until they were banned by the Montreal Protocol – which entered into force in January 1989 – because of their impact on the ozone layer. Their replacement – ­hydrofluorocarbons (HFCs) – have no ozone depletion ­potential, but it has since been discovered that they are very potent greenhouse gases.
In January 2019, the Kigali Amendment to the ­Montreal Protocol entered into force, which will phase down the use of HFCs. A switch to ozone- and climate-­friendly alternatives will avoid an increase of more than ­half-a-degree in global temperature by the end of the century. What are those alternatives? Step forward Norwegian research.
Researching an old solution to a new problem
The discovery of the harmful nature of CFCs ­triggered a period of significant work at NTNU and SINTEF on ­natural working fluids (NWF) as an alternative. While HFCs became a commercial success in many ­applications, the research into NWFs as a climate-­friendly solution continued. Retired NTH Professor Emeritus Gustav Lorentzen was the figurehead behind the research, first proposing CO2 as a refrigerant in 1987. Through his leadership, Norwegian research ­began to collaborate closely with Norsk Hydro who had a strong interest in alternative refrigeration systems for their aluminium products, such as heat ­exchangers and lines. That collaboration led to the formation of shecco, a group that spearheaded the drive for CO2-­based solutions for many years.
The first refrigeration system using CO2 actually dates back to 1879. The system was popular in military and shipping due to its non-toxicity and inflammable ­properties. But technical issues and heavy ­promotion of CFCs by the ­chemical ­industry saw CO2 disappear from the market by the 1940s.
Everyone agrees that the greenest energy is the one that is never used.
NTNU Professor Armin Hafner was first drawn to ­Trondheim in 1995 by the early advances being made in CO2 ­research and has since worked for both NTNU and SINTEF. He leads the HighEFF Research Area on ­components, including natural working fluids. "The ­research was ­desperately needed to further improve the energy efficiency of CO2 systems. We had good infrastructure here in ­Trondheim, but the ­involvement from ­industry, notably Hydro and the creation of shecco, were ­important ­drivers too. We have come a long way to this point, where we now currently have the world's most ­energy-efficient large capacity CO2 compressor here at SINTEF & NTNU," says Armin.
New applications for climate-­friendly working fluids
Much of the early research done at SINTEF related to mobile air conditioning, heat pumps and commercial refrigeration. Three-quarters of Norwegian supermarkets now use a CO2-based refrigeration system, contributing to the more than 18,000 supermarkets across Europe using the solutions. Now, building on decades of research, HighEFF researchers are looking at applying CO2 and other natural working fluids in new industrial situations.
"We have cooperated with Rema 1000 on ­refrigeration plants in their supermarkets but recently that ­cooperation has branched out to other industrial ­applications in their ­supply chain," says Petter Nekså, ­HighEFF Scientific ­Coordinator.
Investment in energy efficiency measures can be profitable for industry.
He also explains the ­diversity of applications under investigation in HighEFF. "NTNU funds a HighEFF ­associate PhD student who has ­worked ­closely with a Norwegian hotel on a new CO2-based air ­conditioning and heat pump system. She has ­obtained very ­promising results from the follow-up energy ­benchmarking. We are also actively investigating other applications with a wide range of industrial partners, including Orkla and TINE."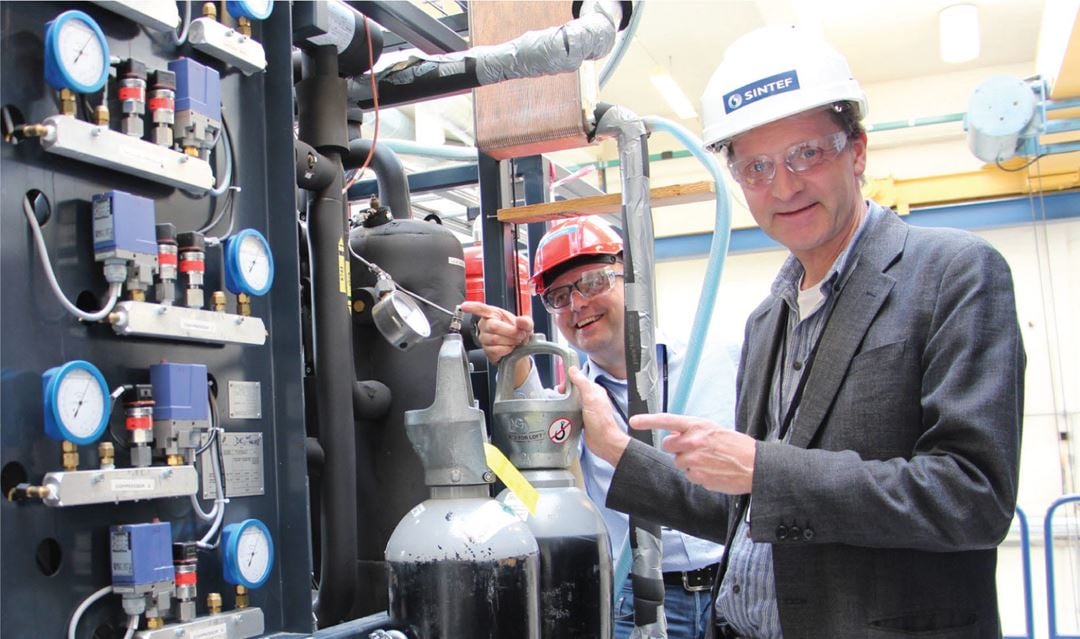 CO2 is ideal for heat pump systems, commercial ­refrigeration and automotive air conditioning, but isn't suitable for every industrial application. However, in many cases there is an opportunity for an efficient NWF-based solution. For example, TINE recently chose an ammonia- and water-based heat pump over a CO2-based solution for their new dairy.
The roadblocks to widespread ­adoption
If NWFs offer a climate-friendly alternative to CFCs and HFCs that could take such a major bite out of the climate targets, then what's stopping a widespread commercialisation?
To understand the problem, we must look back at what happened once CFCs were banned. NWF's could have been developed then, but the money and influence of the chemical industry saw HFCs quickly adopted. The same thing could happen now, explains Petter: "CFCs and HFCs were in use for many decades before their problems were discovered. There may be no issues with new chemical solutions, but we don't know what we don't know. We need proven climate-friendly solutions now in order to meet climate targets, and only NWFs can meet that need."
From Norway to the world
Beyond HighEFF and Norwegian industry, there is huge potential for NWF technologies worldwide. Much of this potential lies in developing countries, which can leapfrog from HFCs still in use straight to long-term sustainable solutions.
Armin says a highlight for him was the installation of a CO2-based refrigeration system in Jordan, ­supported by the United Nations Industrial Development ­Organization (UNIDO). A UNIDO representative called the technology "truly state-of-the-art."
Following this success, a HighEFF spin-off project aims to perform technology transfer to India, a rapidly industrialising country home to approximately 17% of the world's population. A key factor in the successful application will be to further development the ejector technology to allow a CO2-based refrigeration system to be energy efficient in warmer climates.