Ola Borten Moe, Norway's Minister of Petroleum and Energy, inaugurated the brand-new flume, which is part of CEDREN's laboratory equipment, on Friday March 16.

The Centre is led by SINTEF, NINA (the Norwegian Centre for Nature Research), and NTNU, and is one of eleven national centres for research on environmentally friendly renewable energy (FMEs in the Norwegian acronym) which have been set up by the Research Council of Norway.


Focus on river environment

The Energy Act that came into force 20 years ago marked new epoch for a Norway powered by hydroelectricity. The liberalisation of the electricity industry led to energy prices that constantly vary, even within a day.

In hydropower schemes, it is a straightforward matter to rapidly increase or decrease generating capacity, thus generating more electricity when the price is high, and less when it is low. However, rapid changes in hydropower generation also means that the flow of water in some regulated rivers also changes more rapidly than it used to. Discussions among Norwegian electricity generation experts about how far it is possible to adapt power-station operation to market demand thus centre on the question of how far river environments can tolerate rapid changes in water flow.

And this is where SINTEF/NTNU's new "indoor river" comes into the picture.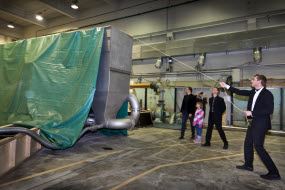 The Minister unveils the experimental flume, watched by (from the left) Nils Rüther of NTNU, the Minister's daughter Karen and CEDREN director Atle Harby. Photo: Thor Nielsen
Model studies of effects

The new experimental arena enables scientists to study flow, erosion, sediment transport, etc., under carefully controlled conditions, and it includes advanced equipment to measure and record its results.

"Here we can study the effects of more changeable water supply regimes in the rivers and water-courses that supply hydropower schemes," says Ånund Killingtveit, professor at NTNU and assistant director of CEDREN.

According to a CEDREN press release, the studies using the flume will also provide knowledge of decisive importance not only for the development of hydropower technology that will enable rivers to tolerate greater variability in flow, but also for adapting power station operation to biological conditions in rivers, such as those that concern salmon.


Minister very interested

Ola Borten Moe followed the briefing he was given about the experimental flume with close interest. The CEDREN staff have already baptised it "the Ola Flume".

The Energy Minister had the following comments to make about the everyday energy situation in the future:

"We are already operating our rivers in different ways to what we did just a few years ago, because the market situation has changed as has the relevant legislation. We will be putting much more renewabel energy on the market in Norway and Sweden in the next eight to ten years, which will reinforce this trend. We also know that there is a great need and strong demand for balancing power in Europe. I believe that there is an opportunity for Norway there; I am not rejecting it.

"However, I believe that it is important for us to do the sort of thing that is being done here," said Borten Moe, as he nods at the experimental flume. "To explore the consequences for the environment and their surroundings of operating our rivers in different ways. We also need detailed market analyses of what this would mean for the Norwegian and Nordic electricity markets."


Topics that need research

In his inauguration speech, SINTEF's Atle Harby, who heads CEDREN, argued in favour of research on other ways of exploiting our hydropower resources:

"Europe is putting significant efforts into developing wind and solar power, neither of which can be controlled. We can use our hydropower reservoirs to store surplus wind and solar power If the wind is not blowing when consumers need electricity, the shortfall needs to be made up by means of balancing power, of which hydropower is an ideal source. We don't need to build new dams or reservoirs; there is plenty of capacity in the current system if we build new power stations and pumped storage systems between the reservoirs we already have," said Harby.

At the same time, Harby emphasised that at this point in time, it is impossible to say how far Norway should go in supplying the rest of Europe with balancing power.

"We need more knowledge of what this would involve. We will have to study the effects on the environment, the need for a distribution grid and cables, and how a new market would be created. The potential offered by increasing our supply of balancing power is too great to permit us not to work out how to realise it," said Harby.


Doctorates and contracts

The flume will be used in a number of doctoral projects at CEDREN, as well as in contract projects for energy utilities and the authorities.

by Svein Tønseth

Read this too: Special radar for bird-friendly wind-turbine siting