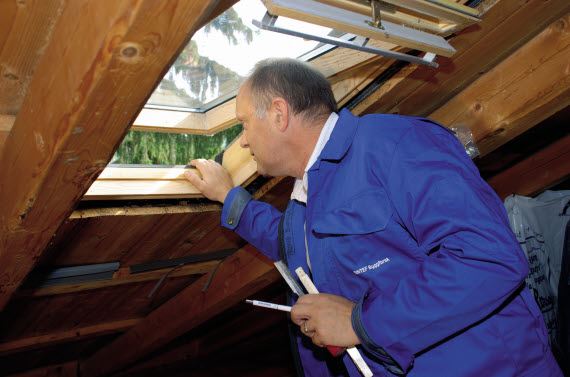 Skylights are one of the things that should be examined when buying property. Photographer: SINTEF Building and Infrastructure

Real estate owners are obliged to inform about faults and deficiencies when selling their property, but buyers are nevertheless obliged to examine the property. It is expensive to bring professionals to viewings, and if you don't have the economy to do this, you should examine the property closely yourself before buying.
More people need legal aid
Help Forsikring, who offer insurance for buyers of real estate, experience a constantly increasing demand for legal aid in connection with real estate purchases.
– A lot of people believe that a valuation price is a technical review of a property, but the valuation price is practically worthless if one wishes to know something about the technical condition of the property, says legal manager at Help Forsikring, Tore Strandbakken.
– Behaving unscrupulous
Real estate buyers who don't examine the property closely will often have unrealistic expectations to what they have bought, bearing the risk of major, unforeseen expenses. By spending a little more time prior to the purchase, money can be saved in the future. This doesn't need to be very difficult, if you know what to ask and what to look for.
– We also experience that sellers of real estate are behaving more unscrupulous than before. This should encourage buyers to be extra cautious, says Strandbakken.
SINTEF Building and Infrastructure recommends demanding a report of the technical conditon of the property, and that one makes certain reservations at the time of the bidding, e.g. that the seller covers the expenses in case of need for repairs.

– Not all sellers will accept such reservations, but then you should think twice. One alternative is to lower the offer, another is to set aside money for repairs, and a third alternative is to consider another property instead, says senior scientist Trond Bøhlerengen at SINTEF Building and Infrastructure.