Jacqueline Floch
Senior Research Scientist
---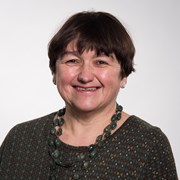 Unit:

Department:

Office:

Trondheim
My research focus is the innovative applications of digital technologies towards a smarter and inclusive society. Social sustainability, user participation and empowerment, and user centered design have top priority on my research agenda.
I earlier did research on model-driven software engineering and system architectures, and I therefore also good undertanding on the making of software systems.
Education
Ingénieur civil de l´ École Nationale Supérieure des Télécommunications, Paris, 1983
Dr. Ing, Dept of Telematics, Norwegian University of Science and Techology (NTNU), 2003
Competence and research areas
Digital technologies, digital inclusion, user empowerment, user centered design.
Linkedin
https://www.linkedin.com/in/jacqueline-floch-0aa6831/
ResearchGate
https://www.researchgate.net/profile/Jacqueline-Floch
ORCID
Expertise
Contact person, expertise
Contact info
Visiting address:
Strindvegen 4
Trondheim