Ingrid Elisabeth Tveten
PhD Fellow
---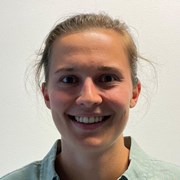 Unit:

Department:

Office:

Trondheim
PhD candidate in the Medical Image Analysis group. The working title of the PhD project is "Artificial intelligence for improved measurement of heart function". In the project we wish to investigate how AI can be applied to utiliza echocardiography (heart ultrasound) together with other data sources to have a more comprehensive picture of the heart's function, as well as to develop explainable/interpretable methods that can support clinicians.
Education
Master's degree in Applied Physics and Mathematics from The Norwegian University of Science and Technology (NTNU). Specialization in biophysics and medical technology.

Currently a PhD candidate at SINTEF (in collaboration with NTNU and St. Olavs).
Competence and research areas
- Medical image analysis
- Machine learning
- Medical images (MRI, ultrasound, CT, PET)
- Medical physics (images and acquisition, radiotherapy, radiobiology)
Linkedin
https://www.linkedin.com/in/ingrid-tveten/
ResearchGate
https://www.researchgate.net/profile/Ingrid-Elisabeth-Tveten
ORCID
Contact info
Visiting address:
Professor Brochs gate 2
Trondheim