Hrefna Run Vignisdottir
Research Manager
---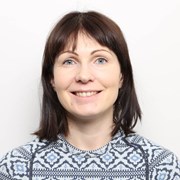 Unit:

Department:

Office:

Trondheim
Hrefna moved from Iceland to Norway in 2009 and has finished both Msc. and Phd. at NTNU and worked in the private sector since she moved. She has worked actively with environmental assessment and is today a researcher at SINTEF Community. At SINTEF she focuses on the environmental impact (LCA) of infrastructure, mainly transport infrastructure. Her main motivation is to reduce emissions and adapt current construction to face the challenge of climate change.
Education
2005-2008 Bsc. in mechanical/industrial engineering from University of Reykjavik, Iceland.
2009-2011 Msc in industrial ecology from NTNU, Norway.
Phd from NTNU with the project "Environmental impact from winter road maintenance - a life-cycle perspective"
Competence and research areas
Hrefna is experienced in performing LCA on construction projects and also on transport infrastructure in general. She has also worked with material flow analysis (MFA) and system analysis for production processes. However, Hrefna's main focus is on the environmental impact (LCA) from infrastructure construction projects and measures to reduce these emissions.
Linkedin
https://www.linkedin.com/in/hrefnarunvignisdottir/
ResearchGate
Contact info
Visiting address:
S P Andersens vei 3
Trondheim