Gerd Kjølle
Chief Scientist
---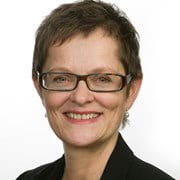 Unit:

Department:

Office:

Trondheim
Gerd Kjølle is Chief Scientist in SINTEF within security of electricity supply and Centre Director of the Centre for Intelligent Electricity Distribution (CINELDI) which is a Centre for environment-friendly energy research in Norway. Kjølle has been a professor at NTNU Department of Electric Power Engineering for many years. She received the honorary award for 2019 from the Norwegian Academy of Technological Sciences for her contributions within security of supply and reliability of power grids.
Education
Master of Science in electric power engineering, NTNU
Diploma in theory and practice of Teaching, NTNU
PhD in electric power engineering, NTNU
Competence and research areas
Security of electricity supply, power system reliability, risk and vulnerability, power supply interruption costs, fault and interruption statistics, grid planning, Smart Grids.
Research management, project management.
Linkedin
https://www.linkedin.com/in/gerd-kj%C3%B8lle-652bbb40/
ResearchGate
https://www.researchgate.net/profile/Gerd-Kjolle
ORCID
Contact info
Visiting address:
Prinsens gate 1
Trondheim