Emily Christine Cowan
Research Scientist
---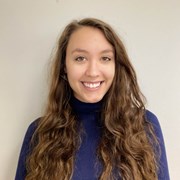 Unit:

Department:

Office:

Trondheim
Emily Cowan is a Research Scientist at SINTEF Ocean, in the department of Climate and Environment.
Education
Cowan received her MA in European Studies from the Norwegian University of Science and Technology (NTNU) in 2020 with the title: "The Price of Plastic: Analysing the actors that influenced the EU's Single-Use Plastic Directive, 2004-19". She is currently working on her doctorate.
Competence and research areas
Cowans's expertise in the social and political sciences fits well with transdisciplinary research projects. Her areas of focus are on plastics and Arctic multi-level governance. Cowan works on a variety of EU and NFR projects where she holds stakeholder-driven workshops focusing on perceptions and scenario development to identify pathways forward for policymakers. The Dr. Philos degree which Cowan is currently working on is centred around the UN plastic treaty negotiations where she uses the methodological approach of event ethnography to better understand how environmental agreements are formed.
Linkedin
https://www.linkedin.com/in/emilychristinecowan
ORCID
Contact info
Visiting address:
Brattørkaia 17 C
Trondheim