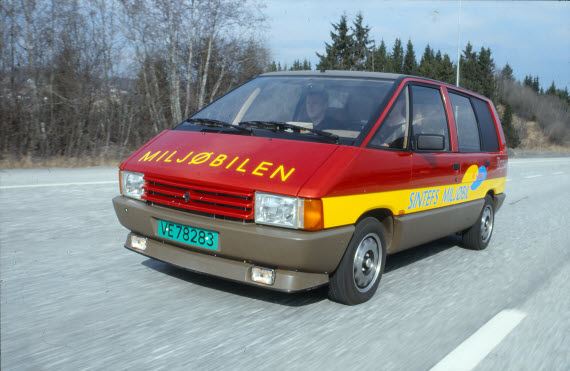 SINTEF's jubilee van on the road in 1990 – one of the world's first hybrid vehicles. Photo: SINTEF

The rebuilt Renault was electrically driven, but also had a gas engine in order to increase its range.

It was one of the world's first hybrid vehicles.


Interdisdiplinary groundbreaking efforts

The unusual environmentally friendly vehicle was the result of a year and a half of interdisciplinary collaboration between SINTEF and NTH, and it was built to illustrate the range of expertise that SINTEF could boast of on its 40th anniversary.

The combination of electric power and natural gas fuel made the vehicle very special.


Advanced technology for its time

The experts were proud to show off the vehicle's special features, which included a computerised system that automatically determined the relative contributions of the two power trains when both were in use and which handled the synchronisation of the connection of the internal combustion engine.

The converter that produced three-phase alternating current to the electric motor was also more advanced than anything available at the time.