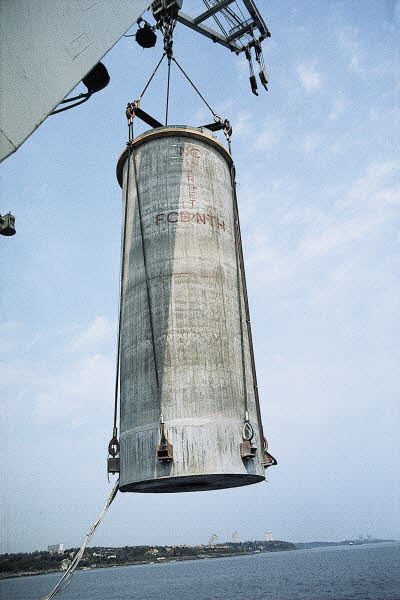 In 1976, the Cement and Concrete Research Institute (a department of SINTEF since 1977) performed model tests of Condeep cells at a scale of 1:5 in collaboration with Norwegian Contractors. The results made important contributions to evaluations of the safety of this type of structure. Photo: Audun Hofsøy

The first petroleum fields that were developed in the North Sea, and which came into operation in 1971, lie under depths of 50 – 70 metres, where the steel structures and other aspects of technology from the Gulf of Mexico could be copied.

However, the fields that were developed later in the 70s lie under much deeper waters. In the course of that decade, Norway moved to ocean depths of nearly 300 m, a development that led to much innovative thinking where materials were concerned.


From steel to concrete

The stiffness of concrete made this material an obvious alternative to steel for platforms that were going to be deployed in very deep waters.

This provided the impetus for the development of what became known as the Condeep platforms (structures built in reinforced concrete and floated out to the field, where they stood directly on the seabed, stabilised by their own weight).

Gullfaks C, the largest of the Condeep platforms, and the Troll A platform, which was the tallest, were nominated by The Economist magazine as two of the technological wonders of the modern world.


More contributions from research
SINTEF/NTNU made important contributions to the building of the Condeep platforms; these included concrete technology, methods of estimating wave and current loads, construction technology and foundation modelling.


Norway enters the age of gas
In 1996, gas began to be produced from Troll, the largest gas field in the North Sea, turning Norway into one of Europe's most important suppliers of natural gas for the next hundred years.

Condeep technology was one of several innovations that enabled Troll to be developed.


World record

The concrete gravity base of the Troll platform, the last Condeep platform to be built, is 370 m high – 46 m higher than the Eiffel Tower – and is the highest object ever moved by mankind.

Among other contributions SINTEF/NTNU performed mathematical and physical model tests that helped to solve problems related to the special wave loads that impact the Troll platform.