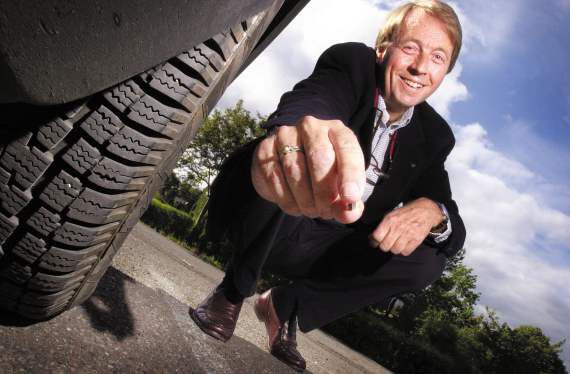 The company Sensonor, represented here by Per Gløersen in a photo taken in 2000, had its first success with airbag sensors. Subsequently, the company was the first in the world to produce vehicle tyre-pressure sensors. The roots of the company were in pioneering research projects performed by SINTEF in Oslo. Photo: SINTEF/Werner Juvik

Microelectronics was a very young discipline when the pioneers at SI – now SINTEF in Oslo – took it up. They made their first transistor in 1962, and soon afterwards, their first integrated circuit. Meanwhile, they had also developed the "SI–beam", which was to become the core of a new pressure sensor; a tiny pin of silicon doped with foreign atoms "à la transistor".

The beam was industrialised by the Aker Group, and Akers Electronics (AE) was set up in Horten in Southern Norway in 1965 (it was later renamed AME – Aksjeselskapet Mikro-Elektronikk).


From the County of Vestfold to the rest of the world

Sensonor emerged from AME in 1965. The sensor beam from SI brought the company into the car airbag market. This was the core of the first generation of airbag sensors from Horten; sensors that warned the airbag release mechanism of a sudden stop.

In 1992, Sensonor launched its second-generation crash sensors, based on a more highly developed beam that was suitable for mass production. In the course of the next eight years, the Horten company would supply 33 million of these sensors to the vehicle industry.


First to market in several fields

In 2010, Sensonor could look back on a quarter of a century as a significant player in the global silicon MEMS (MicroElectro-Mechanical-Systems) market.

The company was the first on the market with MEMS accelerometers for airbags and high-accuracy pressure sensors, and it launched the first tyre-pressure sensor and the first MEMS gyroscopes to be manufactured in large volumes.

By the beginning of 2011, Sensonor had delivered more than 250 million pressure sensors, more than 250 million accelerometers and more than two million gyroscopes to clients all over the world for use in a wide range of demanding applications.