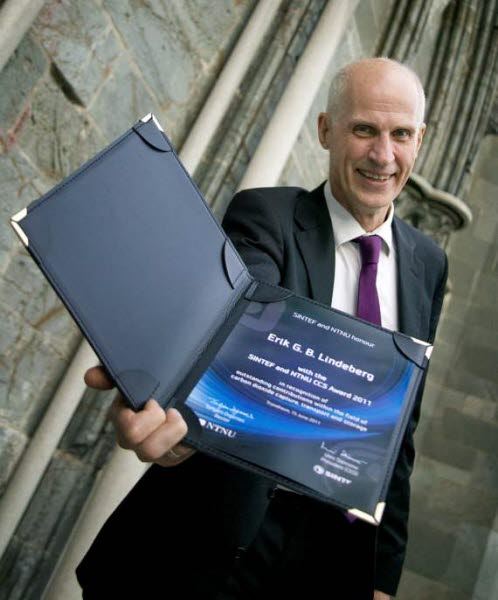 Trondheim, 2011: Chief scientist Erik Lindeberg of SINTEF Petroleum Research receives the international "SINTEF and NTNU CCS Award" for his pioneering role in research on storing CO2 in geological strata. Photo: SINTEF/Gry Karin Stimo
In the summer of 1986, SINTEF's Erik Lindeberg was visited by his colleague Torleif Holt at his country cabin in Sweden. Both men were chemists and their area of research was reservoir technology. Even on holiday, the two talked about their work.

They agreed to write an application for funding for an internal project on the topic of "Gas-fired power stations with CO2 treatment". The idea was to capture CO2 emissions from a future gas-fuelled electricty generating station on the coast of Norway and store it in pores in the bedrock far below the seabed.


Killing two birds with one stone

That was the moment at which the concept of carbon capture and storage (CCS) was born; a concept that scientists and industry experts all over the world are now trying to put into operation.

The two SINTEF pioneers wanted to kill two birds with one stone, by:
reducing greenhouse gas emissions to the atmosphere
using the captured CO2 to squeeze more oil out of reservoirs; i.e. to recover more energy, a technique that had long been in use in the USA.
Their initiative put CCS on the agenda of Norwegian environmental organisations and politicians.