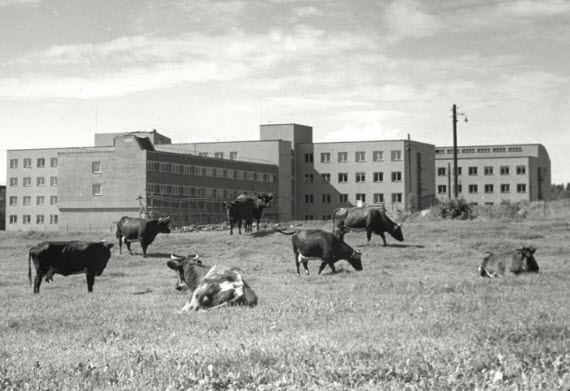 The Central Institute of Industrial Research (SI), now SINTEF in Oslo, started its activities in 1950. Six years later, the institute moved into these newly built premises on Forskningsveien at Gaustad in Oslo. Photo: SINTEF

"Research in the natural sciences was admired after the end of WW2, and there was widespread belief in the industrial potential of such research," wrote Jon Gulowsen, professor of social science at Bodø Regional College, in his book about SINTEF's first 50 years.

The decision made by the Royal Norwegian Council for Scientific and Industrial Research (NTNF) in 1949 to establish SI in Oslo triggered a burst of energy at NTH and led to the formation of SINTEF in Trondheim in 1950.

This is the story of how the SINTEF Group – the organisation that grew to become the largest independent research concern in Scandinavia – came into being:
1949: The Royal Norwegian Council for Scientific and Industrial Research (NTNF) resolves to establish the Central Institute for Industrial Research (SI) in Oslo.
1950: SINTEF (The Society for Industrial and Technological Research at NTH) is established in Trondheim by the Senate of the Norwegian Institute of Technology (NTH).

1980: SINTEF changes from being a company reporting to the Board of NTH to an independent foundation.

1985/86: The SINTEF Group is established. The Ship Research Institute of Norway (NSFI), Continental Shelf Institute (IKU) and Norwegian Research Institute of Energy Supply (EFI) join SINTEF on the initiative of the state. These institutes are currently known as MARINTEK, SINTEF Petroleum Research and SINTEF Energy Research respectively.

1993: SI and SINTEF merge on the initiative of the Board of SI.

2007: The Norwegian Building Research Institute becomes part of SINTEF Building Research.