About
BIMprove is a EU-project that aims to revolutionize the stagnant European construction industry and solve long-standing problems such as decreasing productivity, dangerous environment for workers, negative environmental impact, and budget misalignment with actual expenditures.
The challenges
- Increased costs, high-risk environment, and resources expenditure
The construction industry faces several challenges that significantly affect companies and society. Increased costs are a central concern, where factors such as material prices and costs related to labour and regulations affect the projects' profitability. The construction market was estimated to reach a value of over 8 billion euros in 2022. However, productivity is hampered by rising costs related to an inefficient supply chain, and progress reports and quality checks are often carried out manually without any prediction methods.
At the same time, one is also faced with challenges related to the working environment, where hazards on the construction site can lead to injuries and unwanted incidents. Today, construction workers are often exposed to dangerous conditions on the construction site, and the construction industry is currently considered one of the most dangerous sectors in Europe. Good working conditions largely influence attracting younger generations and are essential to satisfy the existing workforce.
It is also essential to address problems related to resource consumption. The construction industry has a high consumption of resources and is responsible for 40% of global energy consumption and 38% of global greenhouse gas emissions. Therefore, there is a great need for cost-effective energy savings that can help support the targets set by the European Green Deal plan for 2050. Through the project, we look at various solutions to these challenges and contribute to a sustainable, safer, and more cost-effective construction industry.
The solution
The project develops a dynamic digital system for construction sites to fast-track productivity, cut costs and improve working conditions. The solution extends the 3D-based Building Information Modelling (BIM) systems with Digital Twin Technology, introducing a much more dynamic and multi-functional system reliant on real-time data.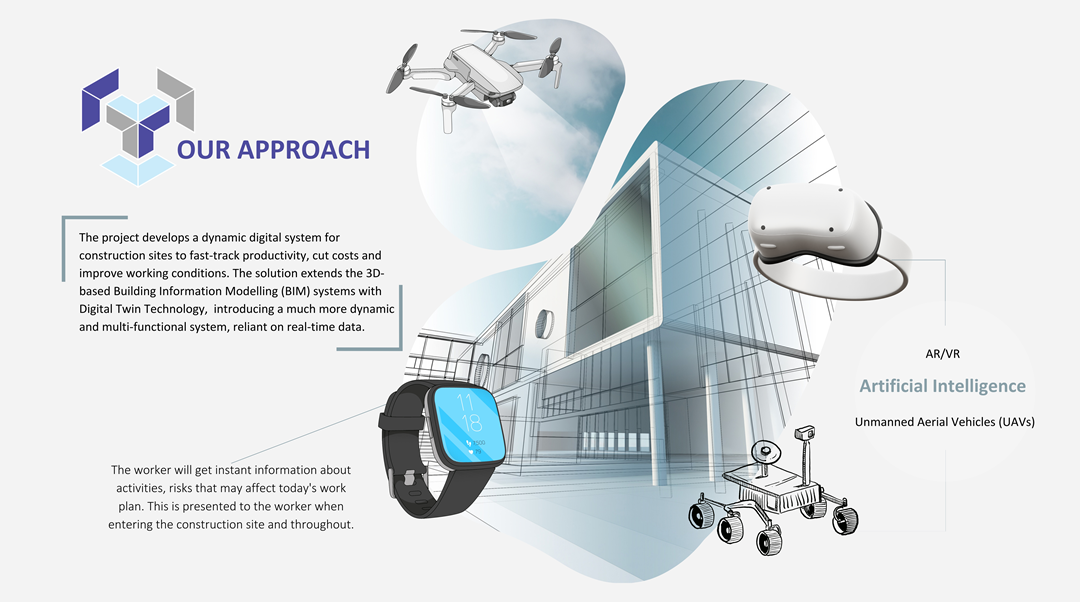 This innovative approach will streamline the digital transformation of the European construction industry, blending Artificial Intelligence with AR/VR, Unmanned Aerial Vehicles (UVAs) and wearable technology.
Construction sites will have real-time information available, allowing them to identify early-stage errors and being able to predict them. Furthermore, lowering costs to control resources, minimize waste, and ensure a high safety level.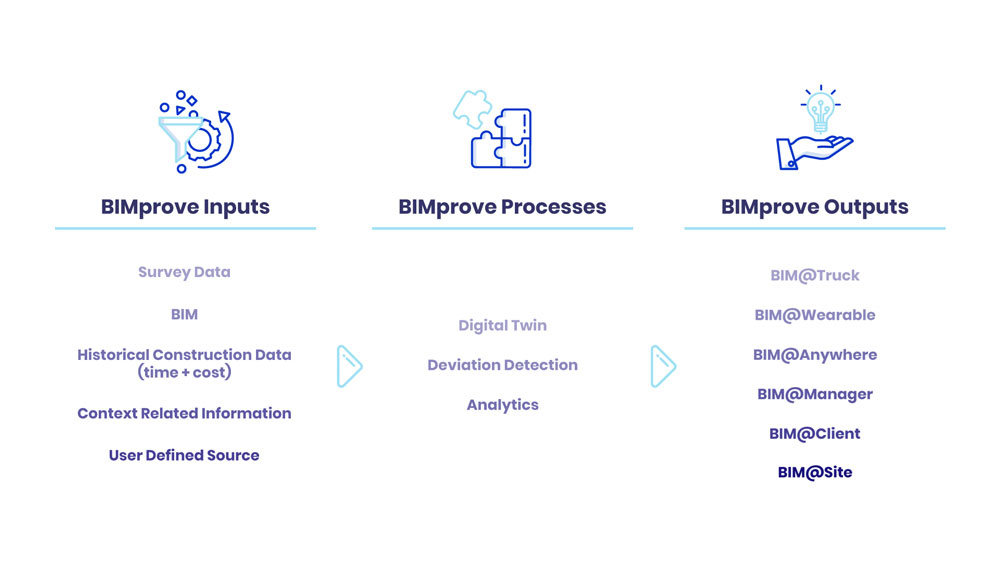 The system's core is a cloud-based data integration service, where the information is exchanged, and data processing is possible through modular interfaces (APIs). The interfaces can add/remove and update information in the layers, as seen in the illustration below.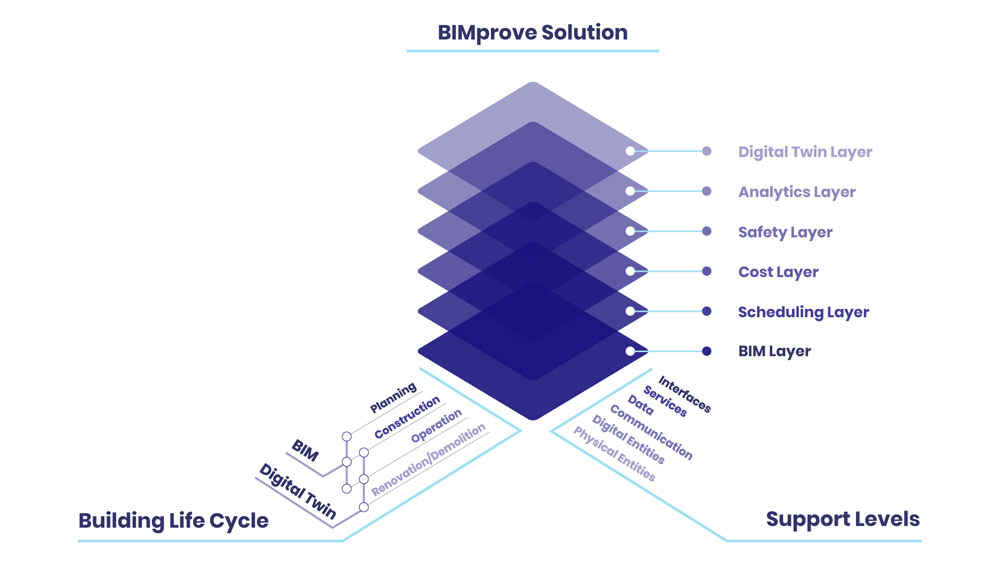 Partners
BIMprove is a joint effort among 12 European partners (from Norway, Spain, Germany, Switzerland and Finland) covering all key areas of the construction value chain.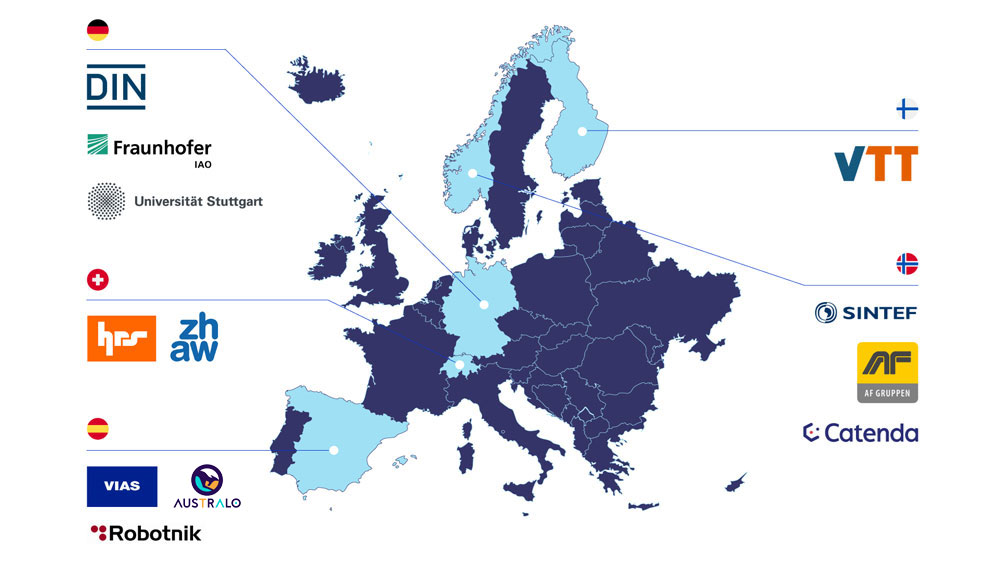 Project website
Part of the EU Green Deal
The European Green Deal is the long-term plan to make the EU`s economy sustainable and become climate neutral by 2050. The deal involves boosting the efficient use of resources by moving to a clean, circular economy, restoring biodiversity, and cutting pollution.
Project funding
BIMprove is an initiative funded by the European Union's Horizon 2020 Research and Innovation programme under grant agreement N° 958450.
Key Figures
BIMprove is an EU project with partners from five countries: Norway, Switzerland, Finland, Germany, and Spain.

The project has a duration of 36 months

The budget is 5,6 million Euros.