Fuel cell technology is advancing rapidly, providing energy saving solutions in a wide range of applications including transport and mobility. However, there are limitations in fuel cell membrane electrode assembly (MEA, the core component in the electrochemical reaction) that must be overcome in order to improve performance. The EU-funded CAMELOT project is a consortium of research institutes and universities, MEA suppliers and transport original equipment manufacturers (OEMs) that aims to investigate ultra-thin and ultra-low loading layers required by the future MEAs. The project will combine numerical modelling with innovative in situ characterisation to develop a scientific understanding of the limitations of advanced MEAs. In addition, an open source model will make all scientific developments accessible to the global fuel cell community.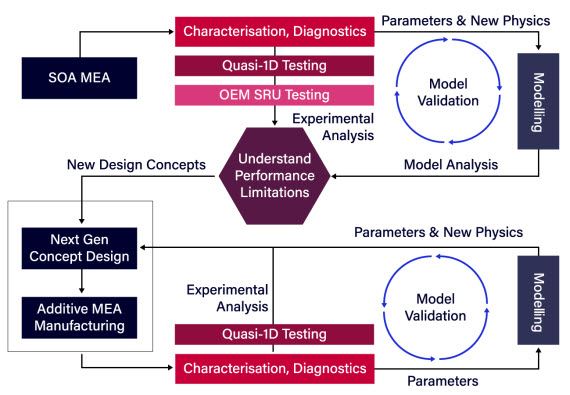 Partners:
SINTEF (NO, coordinator)
JOHNSON MATTHEY FUEL CELLS LIMITED (UK)
TECHNISCHE UNIVERSITAET CHEMNITZ (DE)
FCP FUEL CELL POWERTRAIN GMBH (DE)
BAYERISCHE MOTOREN WERKE AKTIENGESELLSCHAFT (DE)
ALBERT-LUDWIGS-UNIVERSITAET FREIBURG (DE)
PRETEXO (FR)
This project has received funding from the Fuel Cells and Hydrogen Joint Undertaking under grant agreement No 875155. This Joint Undertaking receives support from the European Union's Horizon 2020 research and innovation programme, Hydrogen Europe and Hydrogen Europe research.