Biofouling is a challenge for salmon farming worldwide, particularly in Norway since its presence decreases the effectiveness of cleaner fish employed to control the salmon lice. Other impacts of biofouling accumulation include decreased oxygen levels within cages, net deformation, and increased stress on mooring systems. One of the main measures for counteracting biofouling today is in -situ high-pressure net cleaning.
Underlying idea
The underlying idea of NetClean 24/7 is to develop an autonomous and tetherless robot for prevention of biofouling and inspection of net integrity. The permanently installed robot will be small, energy efficient, have its own docking station, and conduct continuous net cleaning and inspection operations in fish farms.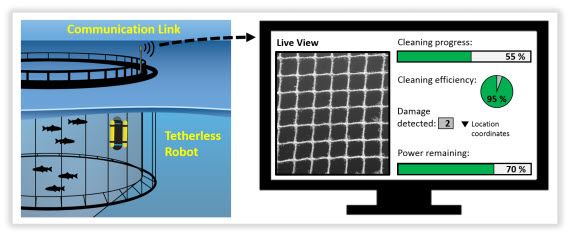 Research area
The following research areas are addressed in the project:
Autonomous inspection and cleaning: Development of autonomous cleaning and methods for inspection and monitoring of cleaning efficiency.
Sensor package system for data capturing: Automate the extraction of characterizing information obtained from the sensor package, by developing appropriate algorithms and methods to analyse and quantify variables and conditions related to A) net, B) biofouling and C) environment.
Underwater docking station: Subsea docking systems for automatic launching and recovery of the robot, as well as inductive battery charging and transmission of the large data quantities obtained must be developed.
Permanent resident cleaning robot: Create a real world applicable permanent resident tetherless cleaning robot.
Project Owner, Remora Robotics AS has already developed a first version of cleaning robot with tether named Remora (Figure 2). Hence, research will be focused on the adaptation of the Remora cleaning robot to incorporate the outputs from 1), 2) and 3) in order to develop an advanced, full autonomous and tetherless cleaning robot permanently installed in a cage that is capable of providing inspection and biofouling prevention as well as continuous monitoring of environmental conditions (i.e. temperature, O2, etc.) in fish cages.
Project partners
The consortium behind the NetClean 24/7 project is built around:
An innovative developer of cleaning robot, Remora Robotics AS as project owner.
One of the world's largest salmon farming companies, Nordlaks Oppdrett AS.
Developer of robust and reliable instrument solutions for oceanographic and other environmental measurements, Xylem Aanderaa AS.
Two research partners (SINTEF Ocean AS and NTNU).
Funding
The project is funded by The Research Council of Norway.