Norway and the EU are prioritising a Circular Economy agenda to deliver the next generation of jobs, growth and investment. Research funds, innovation support, consumer demands and legislative requirements will provide opportunities for those businesses using resources more productively.
SFI Circular aims to realise a circular economy by creating new business opportunities, a more effective public sector, increased value creation and competitiveness of the Norwegian industry with higher resource efficiency and improved environmental performance. We will support this through innovations in organization, value-chains and society, with an eye on product and service development, regional networks for exchange of energy and materials, and new governance and business models based on circular economy.
At SFI Circular's core are the academic partners SINTEF, NTNU and Nord University in collaboration with Norwegian enterprises and public actors committed to making the transition to a circular economy. We invite network partners covering a broad range of Norwegian businesses, industry and the public sector to work with us.

Vision
SFI Circular – the leading research and knowledge community on circular economy
Business idea
SFI Circular provide applicable knowledge and research for private and public actors wanting to improve their competitiveness and meeting global sustainability goals by circular economy principles.
SFI / CRI (Centres for Research-based Innovation)
SFIs are long-term partnerships where businesses, public organizations, research institutes and universities collaborate. An SFI enhances the innovation capability via close alliances between industrial R&D and developing internationally-leading industry relevant research groups. Hence, SFIs are evaluated on their potential for business- and societal innovation as well as academic excellence. SFIs are co-funded by companies (min 50% of RCN funds), research institutions and the Research Council of Norway. The maximum duration of an SFI is eight years, with a total budget of approximately 250 million NOK.
Circular economy
A circular economy is an economic system that optimizes the use of limited resources and minimizes emissions to the environment through product, processes, and system innovation. Materials are kept in closed 'cycles' or 'loops', retaining as much value as possible of products, parts and materials, dramatically increasing efficiency of resource utilization. The principles of circular economy is illustrated in Figure 1.
Circular economy can improve the efficiency of public sector and increase competitiveness of Norwegian businesses through new business opportunities based on efficient resource usage, selling services instead of products, product design, maintenance, repair, reuse, remanufacturing, refurbishing, and recycling.
A Circular Economy will circumvent future resource scarcity, help reduce our climate impact, provide opportunities for innovative services and deliver new levels of economic efficiency and resource productivity.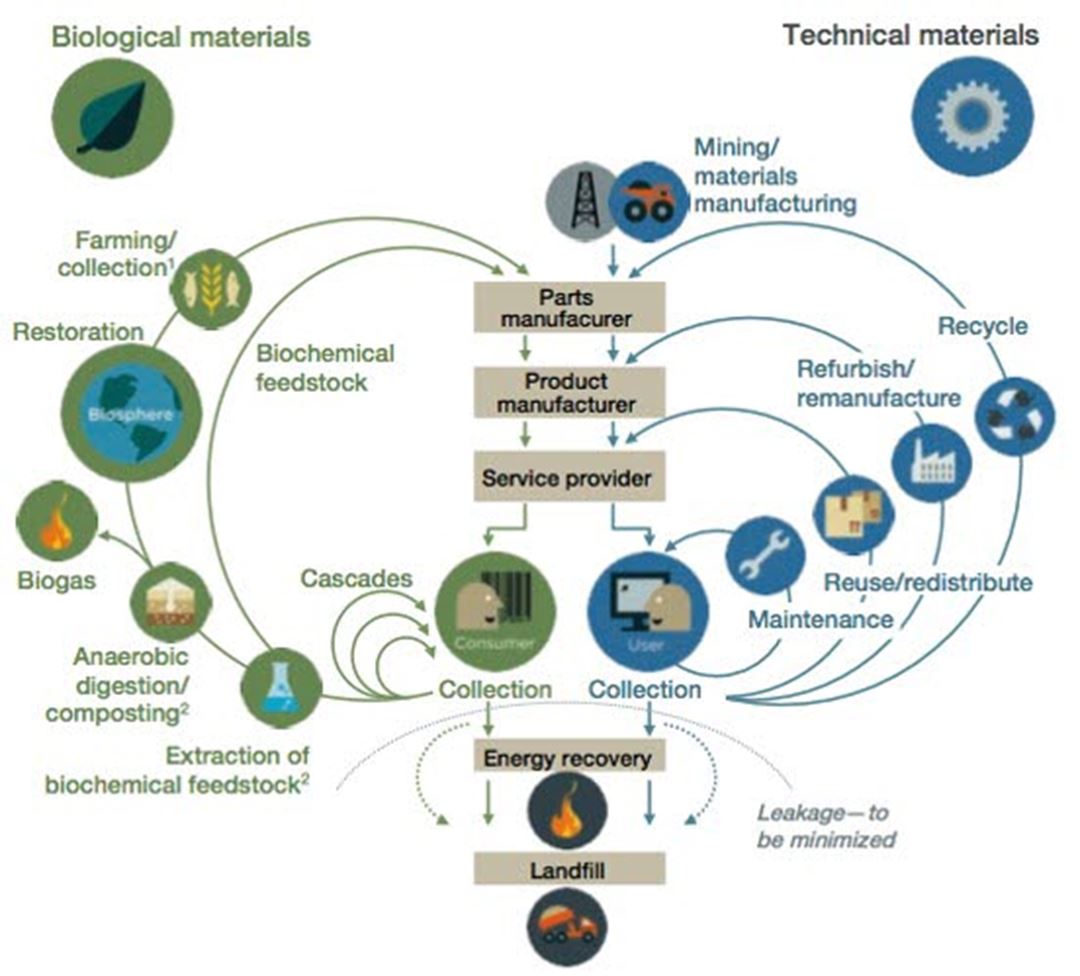 Circular economy examples
Many companies are already using more circular business models to create value:
Offering service-based business models instead of products, such as kilometers instead of tyres (Michelin), lightning instead of lights (Philips), printing instead of printers (HP) and services such as rent-a-jeans (Mudjeans). Customers become long-term partners and facilitate optimal usage and recycling of components and material.
Identifying growing business opportunities, such as sensor-based sorting solutions (Tomra), reclaiming raw materials through urban mining (Boliden) and using by-products in other sectors, such as the use of micro-silica from the silicon industry in concrete (Elkem).
Re-using waste resources in internal production processes or distributing to other firms in clusters (Mo Industripark).
Use of biomaterials in packaging (Tine) and better utilization of biomass (Borregaard).
Research content
SFI Circular will focus on identifying, evaluating and implementing innovative opportunities for resource efficiency and value-creation from adapting circular economy principles within and across different sectors. We rely on a multidisciplinary approach integrating leading competence on policy and societal transition, economic analysis and business models, understanding the physical resource economy, and strategies for innovation and commercialization.
Figure 2 illustrates the core activities of our research in SFI Circular and how they combine to support selected pilots in industry and public sector. We will build on state-of-the-art research within these areas and the connection between them. Linked with research on sustainable transition, innovation systems and new business models, our work highlights potential for increased value-creation by open innovation, new design and new business models within the circular economy framework for Norwegian industry.
SFI Circular is seeking core industry and public partners with circular economy pilots and cases for concrete circular economy innovation, in new product designs, new material cycles, new value-chain constellations, new governance and business models.
SFI Circular partner benefits
SFI Circular takes a research-based but concrete approach circular economy. Our activities aim to provide real and substantial changes in the industry and public sector finding innovations to create better products and services, long term international competitiveness, better profitability and resource efficiency.
SFI Circular offers many benefits for industrial and public partners :
Access to leading researchers, education and knowledge networks of motivated partners facing similar challenges with a shift to a circular economy
Better understanding of circular economy potentials and barriers, within organizations, value-chains and society
Co-creation to tools, indicators and scenarios that support business and public innovation for circular economy, and involvement in pilots and case examples.
Knowledge about economically beneficial ways to increase resource efficiency, mitigate environmental impacts and respond to regulations –create business out of wastes and by-products!
Public funding of strategic research and development activities
Opportunity for shaping the research agenda related to circular economy
Cross sectorial benefits
New business models within the circular economy framework requires increased information sharing, cooperation and interaction between different industries and value-chains, consumers, private and public sectors. SFI Circular invites Norwegian industry and public sector to come together to identify synergies, enabling enable circular economy transition across value-chains, organizations and society.
SFI Circular creates value by pooling resources from many industries and sectors:
Learning and sharing of circular economy approaches and innovations across sectors
Creating new circular economy business opportunities across different sectors
Building competence in the commercialization of circular economy opportunities through spin-off innovation projects and new venture creation
Higher visibility of circular economy actions that is attractive to employees and customers
Network of partners to initiate new research and innovation projects
Invitation
SFI Circular is currently seeking industrial partners and ideas that will deliver results for industry and society. What opportunities do you in circular economy innovation in the next decade? Where can research complement the needs of industry and public actors in providing strategic, long-term results? What can we do to deliver cutting edge research for your organisation?
Tell us your interest in the topic, your ideas, and your projects and let's discuss collaboration.
Read more about Circular Economy Research in SINTEF
Contact information:
Johan Berg Pettersen (NTNU). , +47 93809682
Arild Aspelund (NTNU). , +47 90840017
Einar Rasmussen (Nord universitet). , +4790949470
Casper van der Eijk (SINTEF). , +4798283989